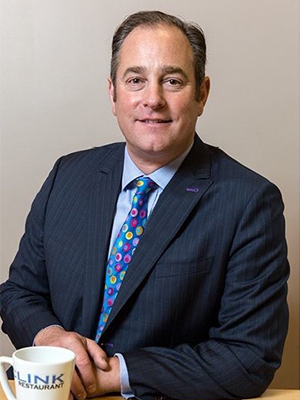 Chris Moore is the chief executive of The Clink Charity based at HMP High Down in Sutton.
The work of The Clink Charity in reducing reoffending rates and rehabilitating prisoners through training them in cooking, cleaning and front of house service. As a training centre, each restaurant offers prisoners in training true-to-life work experience whilst gaining nationally recognised City & Guilds qualifications. By training prisoners in the last six to 18 months of their sentence and supporting them on their release in finding full-time employment in the hospitality industry, The Clink Charity has dramatically reduced the reoffending rate of those who train in the restaurants.
Chris Moore has previously worked for Fenwick Ltd as Head of Group Restaurants. Here he created and operated 37 restaurants across 12 UK sites. Prior to this, Chris has worked at Harrods Ltd as Restaurants General Manager and developed the in-store restaurants and food hall eateries. Chris also worked for the Hilton Hotel Group in the UK and Holland and trained with the Holiday Inn Hotel Group in the New York.
In 2010, Chris was appointed Chief Executive of the Clink charity as part of a long-term plan to expand the prisoner training concept across Her Majesty's Prison Service. The Clink charity main objectives are to change attitudes, transform lives and create second chances. You can find out more about the Clink Charity in here.
For more information please contact businessevents@greenwich.ac.uk