Key details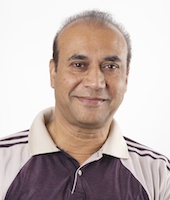 Dr Rangasamy Ven V Veeramah
Senior Lecturer, Health Development
---
Dr Ven Veeramah is a Senior Lecturer for Health Development in the School of Human Sciences at the University of Greenwich.
Ven's professional background is in mental health nursing and he has worked in both inpatient areas and the community. He has been involved in the education and training of nurses and other health care professionals since 1987.
His main interest is in research and evidenced-based practice, his PhD thesis was based mainly on the utilisation of research findings by graduate nurses and midwives and their attitude towards research.
Ven joined the university in 1993 as lecturer on research methods, statistics, epidemiology and health economics, on courses such as Introduction to Statistics, and Research Methods in Health & Social Care on the undergraduate programmes. He also supervises undergraduate and postgraduate student research projects and is a Link tutor, supporting student nurses and staff in clinical areas.
Posts held previously:
1990-92, Senior Lecturer, Thames College of Health Care Studies
1989-90, Senior Tutor, Mental Health, Greenwich and Bexley Health Authority. Main responsibility: Head of School of Nursing managing both staff and students
1990-92, Senior Lecturer, Thames College of Health Care Studies
1987-89, Tutor, Mental Health, Greenwich and Bexley Health Authority