Key details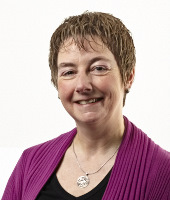 Julie Cooper
Senior Lecturer
---
Julie Cooper is a Senior Lecturer in the School of Health Sciences at the University of Greenwich.
Her experience as a practitioner began with a clinical career in general medicine and moved to specialise in care for older people. Within this specialty she has worked in acute and rehabilitation settings in a variety of roles including Ward Sister, Lecturer Practitioner, and Modern Matron.
She began her research career by undertaking an action research study focused on improving the rehabilitation care for older people, followed by another action research study focused on increasing awareness of relationship-centred care in nursing homes. She commenced her first lecturer post in 2007 at City University and joined the University of Greenwich in 2014 as a Senior Lecturer.
Julie lectures on a range of pre-registration and post-registration programmes in the Faculty of Education and Health, on both nursing and paramedic science courses. She leads on a Year 1 pre-registration course focused on the principles and practice of adult nursing.
She is also the Dementia Cluster Lead in the Centre for Positive Ageing. Another large part of her role is the development of new areas for student nurse placements.
Julie has a special teaching and professional interest in care for the elderly, dementia, long term conditions and clinical skills.
Posts held previously:
2007-14, Lecturer, City University London
2004-07, Research Fellow, City University London
2003-04, Clinical Nurse Leader Older People, Newham Healthcare NHS Trust
Responsibilities within the university
Senior Lecturer, Department of Adult Nursing and Paramedic Science
Course lecturer on pre-registration and post-registration programmes
Dementia Cluster Lead in the Centre for Positive Ageing