Key details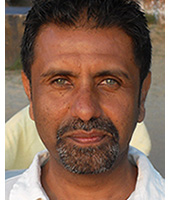 Mark Webb
Senior Lecturer
---
Mark Webb is a Senior Lecturer in the School of Education at the University of Greenwich.
Mark is a Senior Teaching Fellow of the Higher Education Authority and comes from a multi-disciplinary background. He is a professionally qualified teacher, youth and community worker and has taught in the areas of education, youth and community, and social work. He has over 20 years' experience of lecturing/researching in Higher Education (HE) leading and delivering BA Hons and MA programmes in Education and Youth and Community Studies.
He has also been Director and Trustee of a national charity that offers services for Black and Ethnic Minority young people. He has coordinated various research projects, most recently a Higher Education Academy (HEA) funded project exploring how to Improve Black and Minority Ethnic (BME) degree attainment in HE.
As a Critical Race Theorist (CRT) he is committed to interrogating theories of race and representation whilst making a challenge to discrimination in all its forms, integral to his role in education, training and research. He continues to develop challenging, innovative approaches to teaching and learning that have included creative use of virtual learning environments/avatars (representations and realities of identity politics)and more currently workshops using Stand-up comedy techniques (presentation skills) and a master class workshop for enhancing excellence in teacher training.
Mark joined the university in 2002 as senior lecturer, formerly the programme leader for BA Hons Youth & Community Work and member of the university Education Development Unit. He now leads on the Critical Race Theory Practice undergraduate course and development of postgraduate courses. He has developed an innovative Creativity; Inclusivity and Pedagogy course incorporating a range of multimedia, e-learning technologies, creative writing and performance/theatre skills and combined for pedagogic intervention for educational practitioners.
One of his projects, in 2014: Digital Dissidence! and CVs, gave university students tablets to capture and present their professional knowledge in exciting and creative ways, drawing on cultural texts such as music, images and audio to engage the multiple representations of interlocking identities borne out of race, gender, sexuality, class and disability.
Also, in 2015, a highly successful project: Better L.A.T.E (Learning And Teaching Enhancement), was designed to enhance students' critical thinking, writing and analysis in their final year of study leading to first class honours degree. As a case study it will explore and explain the methods undertaken to achieving first class degree outcomes.
Posts held previously:
1991-2002, Senior Lecturer, Manchester Metropolitan University
Programme Leader of PGDip MA Youth and Community, Department of Applied Community Studies. The leadership role monitored review and validations within a multi-disciplinary, multi-pathway suite of programmes. Lecturer across education. social work and youth and community work programmes and delivering social work practice teacher courses.