Key details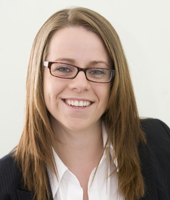 Dr Abigail Rickard
Associate Head of School - Student Success, School of Science
---
Dr Abigail Rickard gained her BSc Hons in Medical Biochemistry from King's College London in 2006 and went on to obtain a PhD in Cardiovascular Pharmacology, funded by the British Heart Foundation under the supervision of Dr Michael J Curtis. During this time she examined the effect of drugs on cardiac arrhythmias.
In 2008, Dr Rickard obtained a research fellowship which enabled her to work at Prince Henry's Institute, Melbourne, Australia under the guidance of Professor Peter Fuller and Dr Morag Young. There she studied early gene expression in H9c2 cells in response to acute mineralocorticoid agonist and antagonist treatment.
Dr Rickard joined the University of Greenwich in April 2011 as a Lecturer in Biomedical Science where she is currently pursuing her research interest in the safety of novel pharmaceutical agents and their effects on cardiac electrophysiology.
Responsibilities within the university
Programme Leader
BSc (Honours) Biology (Extended)
BSc (Honours) Biology
MBiol Biology
Course Leader
Physiology and Pharmacology
Physiological Systems and Regulation
MBiol Project
Course participation
Bioanalytical Techniques
Fundamental Biology and Physiology
Metabolism and Disease
Pathophysiology
Practical and Professional Skills
Physiology and Pharmacology
Physiological Systems and Regulation
Plant, Animal and Insect Physiology
Introduction to Biology
Animal and Environmental Physiology
BSc, MSc and PhD Project supervision
Link tutor
October University for Modern Science and Arts, Cairo, Egypt
Hunan Agricultural University, Changsha, China
Other
Member of the Faculty Board and Academic Council
PGCert(HE) mentor
Research / Scholarly interests
Dr Rickard's research interests have focused on examining the contribution of endogenous steroid hormones (aldosterone and corticosterone) to ischaemia-induced cardiac arrhythmias, and in addition, the protective effects of pharmacological antagonists of these steroids (spironolactone and eplerenone). The techniques employed in the research included a variety of molecular and cellular techniques, but largely involved the use of isolated rat hearts perfused in the Langendorff mode and the recording and analysis of electrocardiograms.
Current research strategy focuses on the effect of novel pharmaceutical agents on cardiac ion channels in relation to their potential adverse effects on cardiac rhythm and utilises a combination of cell culture, transfection and patch clamping techniques to achieve this.
Dr Rickard is also interested in the assessment of innovative pedagogies in the HE science sector, particularly relating to technology-enhanced learning strategies.
Recent publications
Conference proceedings
Ibrahim, Iskander , Richards, Jack, Rickard, Abigail, Thompson, Elinor (2016), Role of a rhomboid protease in a CO2-concentrating mechanism. Royal Society. In: , , , Royal Society Discussion meeting Enhancing photosynthesis in crop plants: targets for improvement. Royal Society, (doi: https://royalsociety.org/science-events-and-lectures/2016/10/enhancing-photosynthesis/).