Key details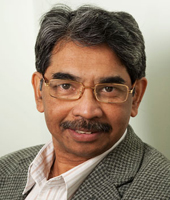 Dr Azizur Rahman
Senior Lecturer, Biotechnology
---
Dr Aziz Rahman obtained his BSc Fisheries and MSc Fisheries from Bangladesh Agricultural University. He then obtained his PhD in Molecular Biology from the University of Southampton followed by eight years of post-doctoral research in the same laboratory at the University of Southampton, UK.
In 2001 he joined the University of Greenwich as a Senior Research Fellow and was subsequently appointed a Senior Lecturer in 2006.
Responsibilities within the university
Course leader
MSc Biotechnology
Module leader
MSc Applied Molecular Biology
MSc Biotechnology Research Project
Module participation
Applied Molecular Biology
Bioinformatics
Pharmaceutical Biotechnology
Research Methods/Biostatistics/Data Management
Fundamentals of Biochemistry
Bioanalytical Techniques
Practical and Professional Skills
Cell Biology and Immunity
Advanced Topics in Molecular Biology
Genetics Project (Life Sciences)
MSc Biotechnology Research Project
Research / Scholarly interests
Development of transgenic animals for biotechnological applications Genomics, Metagenomics and Proteomics Molecular diagnostics of genetically modified food Aquagenomics.
Recent publications
Recent Publications
Uttam R., Nathalie L., Rahman M. A. and Nielsen B. (2018) Purification of lectin and kunitz trypsin inhibitor from soy seed. J. Chromatographic Science 56(5): 436-442.
Shah, M.S., Sutapa S.S., Islam S.S. Rahman S.M.B., Haq K.A. and Rahman M.A. (2017) Heterosis analysis in strain-crossed hybrid Rohu (Labeo rohita) through microsatellite DNA variability assay. Turkish Journal of Fisheries and Aquatic Sciences 17(6)
Hossain M.M., Li X., Evans I.H and Rahman M.A.(2014) A Proteomic Analysis of Seed Proteins Expressed in a Brassica Somatic Hybrid and its two Parental Species. Plant Tissue Cult. & Biotech. 24(1): 11-26.
Dei-Tutuwa, D., Amuna, P.and Rahman M.A. (2014) Rapid Detection of Microbial Contamination in Ghanaian Herbal Medicines by PCR Analysis. Ghana Med. J. 48(2): 106–111.