Key details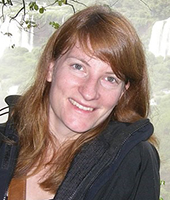 Dr Joanna J Miest
Lecturer in Biological Sciences
---
Dr Joanna Miest is a fish physiologist and immunologist. She obtained her degree in biology, specialising in animal physiology, cell biology and ecology from University of Freiburg, Germany in 2008. Previously she had conducted her Master thesis at the Alfred-Wegener Institute for Polar Research in Bremerhaven, Germany working on temperature physiology of cod in the ecophysiology group of Professor Hans-Otto Pörtner.
After working as a project management assistant at EUrelation in Zurich, Switzerland for a few months she went on to conduct a PhD thesis in "Apoptosis and its association with immunomodulation and disease in common carp (Cyprinus carpio L.)" at Keele University, UK, with Professor Dave Hoole. The thesis was conducted within an international Marie Curie Initial Training Network (NEMO).
In 2012 Dr Miest moved to Kiel, Germany to work at the GEOMAR Helmholtz Centre for Ocean Research as a post-doc and co-project manager focusing on fish health and larval nutrition.
Dr Miest joined the University of Greenwich in March 2016 as a Lecturer in Biology where she works in close collaboration with international academic and non-academic partners to understand the impacts that climate change and disease have on aquatic ecosystems, and how this information can be used to provide a sustainable food source for the world's growing population.
Responsibilities within the university
Course participation:
Fundamental Biology / Fundamental Biology and Physiology
Comparative Physiology
Bioanalytical Techniques
Cell, Immunobiology and Microbiology
Physiological Systems and Regulation / Physiology and Pharmacology
Research and Professional Skills for Life Science
Advanced and Clinical Immunology
Research / Scholarly interests
Dr Miest's research focuses on the impact of environmental factors on fish physiology and on the development of innovative solutions for increasing productivity in aquaculture. Using immunological and molecular techniques her work focuses on various aspects of fish physiology:
Developing novel non-invasive methods to detect disease
Infectious diseases are a major concern for this vital food-producing industry, costing $3 billion annually, and threatening the economic sustainability of production (FAO 2012). Diagnosis is especially difficult in aquaculture and infections are often not detected before serious symptoms and death occurs. In addition, current standard diagnostic tools (ELISAs, PCR) only test for the presence of previously described pathogens, are most often invasive, and are limited in that they can only detect infection in each individual tested, and not the population as a whole.
Addressing this problem Dr Miest works with Dr Daniel Bray from NRI to develop a non-invasive method to detect stress and disease in the surrounding water.
Effect of temperature on development of eel larvae
In order to develop a sustainable aquaculture of European eel and thus contributing to the conservation of this socially and commercially high-value species it is necessary to close its life cycle through breeding and hatchery technology. Up to date, this has not been achieved and unresolved biological and physiological questions, concerning the natural reproduction and early life history ecology of this species hampers progress.
Working in collaboration with the group of Jonna Tomkiewicz and Ian Butts at the Technical University of Denmark (DTU) Dr Miest is addressing the question on how the immune system of eel larvae develops and how it is influenced by temperature. This will also give indications on the vulnerability of eel larvae are to climate change.
Effect of ocean acidification on immunity and scale structure of juvenile turbot
Ocean acidification has been witnessed across the world and the effect it could have on various organisms has become a growing concern. The health and well-being of living organisms majorly depends on their immune system.
Together with her Master student Huajing Yan (based at GEOMAR, Germany) and Marlene Spinner (Kiel University, Germany) Dr Miest is investigating how an increase in pCO2 in the water affects the immune system but also the structure of the scales in an economically important fish species: the turbot.
Prevention of diseases in fish of all life stages through immunostimulation
A cost effective approach to disease prevention in farming of aquatic and terrestrial animals is the administration of substances that enhance the immune system. This work carries on from J. Miest's PhD thesis and in collaboration with Biorigin and Leiber GmbH as well as the group of Professor Dieter Steinhagen at the Veterinary University in Hanover, Germany she investigated the effects of beta-glucan on fish immunity, microbiota and apoptosis in juvenile carp and larval turbot. J. Miest is especially interested if maternal immunostimulation can be used to increase immunocompetence in offspring.
Dr Miest has also been involved in various studies of fish pathogens, both viral and bacterial, investigating the effect of the pathogens on fish physiology and immunology.
Additionally Dr Miest is contributing her knowledge in immunostimulation, molecular analysis of fish immunity and in general fish research to various projects, e.g. investigations into the effects of infection on behaviour of damselfish (Sandra Binning, University of Neuchâtel), larval nutrition and immunostimulation in sea bass and turbot (Andrea Franke and Carmen Arndt, GEOMAR) and the burying behaviour of flatfish (Marlene Spinner, Kiel University).
Key funded projects
"Reducing the impact of disease on the sustainability of international", co-applicant Dr D Bray (NRI). Funding agency: German exchange service. Call initiative: Short term stays 2013.
The aim of this project was to improve the sustainability of aquaculture production through reduction of disease-induced mortality in farmed fish. For this purpose we wanted to demonstrate that disease causes changes in odours released by fish which can be detected through innovative use of existing water monitoring technology.
This information will be used to develop a non-invasive, odour-based method of detecting disease in populations of live farmed fish. This innovation will reduce the impact of disease by providing a cost-effective, early warning system for fish farmers at risk from epidemics, allowing them to take action to reduce fish mortality caused through illness.