Leaving care and entering higher education can be a challenge. We're here to support you all the way, from application through to graduation and finding a job.
A care leaver is someone who has been in the care of their local authority for a period of 13 weeks or more around their 16th birthday. This could have been in foster care or residential accommodation. If you are under the age of 25 and this definition applies to you, then you should be receiving support from your local authority's Leaving Care Team to come to university.
However, at the University of Greenwich, some of the support we offer is still available to you even if you have been in care for just one day. Confidentiality is important to us and we will always respect this and will not share your information with anyone without your consent.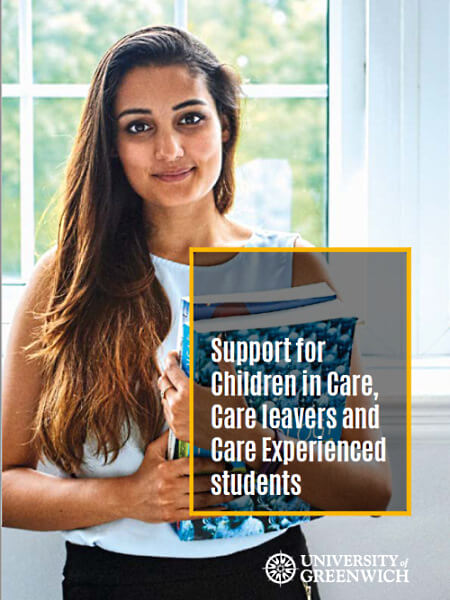 Helping care leavers to apply
Here are some of the ways we can help.
Contextual Admissions: For entry onto courses starting from September 2022, we are offering special consideration to applications from care leavers of a reduction of 16 UCAS points, equivalent to 2 A Level grades, lower than the advertised entry tariff for all undergraduate programmes on our website (including those provided by our partner college franchise). For further information, eligibility criteria and how to apply please click here.
Application: we offer support for choosing your course and help with your UCAS application, including personal statements.
Attend events: we help you attend our Care Leaver Summer School, subject-specific taster days, arrange bespoke visits and can also help with the cost of attending an Open Day and/or interview if you're from Kent, Medway or Greater London.
Answer your questions: we can answer your questions about the transition from school or college into higher education. Email us at careleavers@greenwich.ac.uk.
On-course support for care leavers
Once you become a student, how do we support you?
Bursaries: we offer a Care Leaver Bursary (subject to terms).
Mentor: your student ambassador 'Greenwich Friend' can provide confidential support and guidance, answer your questions and help you have a smooth transition into higher education.
Support from our designated members of staff help you to succeed in your studies.
Year-round accommodation: you are welcome to stay over university holidays. Whilst some accommodation is used for events during the summer, you'll be able to live somewhere that isn't used or move to different accommodation.
Financial support
What sources of financial support are available for care leavers?
Undergraduate loans
Full-time undergraduate students can apply to Student Finance for a tuition fee loan and a maintenance loan for general living costs. You will be required to provide a letter from your local authority to confirm your care leaver status in order to qualify for the maximum maintenance loan.
Local authority bursary and support
A local authority bursary of £2,000 is available for all eligible care leavers entering higher education. Your local authority may pay this in a lump sum or in instalments.
Local authorities must also support you with accommodation and other costs related to entering higher education. You can discuss with your local authority what they offer alongside the bursary.
Care Leaver Bursary
The University of Greenwich provides young care leavers with a bursary of £1,500 a year for up to three or four years (depending on the length of your course) plus £200 towards the cost of graduation. This bursary is not means-tested, but you must be in receipt of full student support. See eligibility criteria.
The Greenwich Bursary
This bursary is worth £700 for new undergraduate students with a low household income and is paid in two instalments. The bursary is assessed and awarded automatically by the Student Fees and Funding Team. More about eligibility and how the fund is paid.
Scholarships and Bursaries
You may also be entitled to some of our additional awards, such as the Commuter Bursary. Find out more.
Care Leaver Covenant
The University of Greenwich has signed up to the Department for Education's Care Leaver Covenant. We have committed to a range of support measures to enhance the recruitment, retention, success and progression of care leavers who study with us. See our covenant.
A range of organisations have committed to supporting care leavers with their own covenant. View a full list.