Further Education and Skills Sector, PGCE (Prof) (QA Only) (NESCOT)
Gain your Professional Graduate Certificate from Nescot in Education (FE&SS) and teach 14+ students. At Nescot you will receive a supportive environment and a proven record of trainee success.
The Professional Graduate Certificate in Education (PGCE) (FE & SS) at Nescot can be studied as either a one year full-time or two year part-time course leading to a recognised level 6 teaching qualification, validated by the University of Greenwich. Class sizes do not exceed 16 to provide maximum support opportunities to all trainees. This course provides individuals with a professional teaching qualification for those with a degree and who would like to teach students aged 14 years or older.
As mentioned earlier, we are facing a lot of limitations because our template is not designed for Partner College courses - aside from this we are unable to update partner college details, module details don't match to what is been provided, teaching and assessment can't be updated as it is a default text driven field, process for fees for PC colleges maybe worth checking with Richard how this works?
Duration
1 years full-time
2 years part-time
What you should know about this course
This course will be of particular interest to applicants who value the learning opportunities that small class sizes offer and wish to pursue a career in teaching students aged 14+
We pride ourselves on the level of support we give and our students value the feedback they receive to enable them to develop and thrive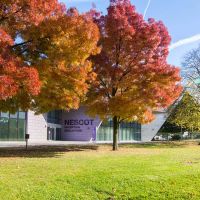 North East Surrey College of Technology (NESCOT)
The course is offered by one of the university's partner colleges.
Located in Ewell, near Epsom, North East Surrey College of Technology provides specialist courses to develop teaching and education sector professionals.
About the course team
Teacher training is delivered by a very experienced and qualified team from diverse backgrounds. The team has significant experience in classroom teaching and management roles and we offer knowledge and practice in research, SEND, secondary & tertiary settings. As a result, the team delivers an Initial Teacher Training (ITT) curriculum that is rich in practical teaching skills development and pedagogy and we promote evidence-based research to underpin good teaching practice. Our trainees also benefit from our partnerships with subject-specific mentors in placements. As a result, they experience comprehensive input and support to enable them to flourish.
Clearing entry requirements
Available to overseas students?
No
Can I use Prior Learning?
If you already hold a teaching or training qualification, please refer to the Tariff of Qualifications (ITT) Database for accreditation of prior learning and discuss with the admissions tutor at the interview.
How you will learn
The following data is based on the compulsory modules for this programme.
Teaching
In a typical week learning takes place through a combination of:
Learning takes place through a combination of timetabled learning and independent study.
You can view more information about how each module is taught within our 'What you will study' section.
Seminars and workshops enable you to discuss and develop your understanding of topics covered in lectures in smaller groups. You will also be able to meet your personal tutor. Timetabled learning may fall between 9am and 9pm depending on your courses and tutorials.
Class sizes
Students on a NESCOT higher education course are typically taught in class sizes of 16 or fewer.
Overall workload
If you are a full-time applicant, each week, you will participate in 12 hours of taught sessions at Nescot on a Thursday & Friday (10 am-4.45 pm); 6 hours of teaching practice in an approved setting; and approximately 6 hours of independent study.
If you are a part-time applicant, each week you will participate in 3 hours of taught sessions at Nescot on a Thursday evening from 5.30 pm; 3 hours of teaching practice in an approved setting; and approximately 3 hours of independent study each week.
In both cases, the academic year is 30 weeks, running from early September to late May.
Assessment
Students are assessed through a combination of assessment methods depending on the modules chosen.
You can view how each module is assessed within our 'What you will study' section.
Each course has formal assessments which count towards your grade. Some courses may also include 'practice' assignments, which help you monitor progress and do not count towards your final grade.
Feedback summary
The assessment schedule for the course is provided in the Programme Handbook and Google Classroom at Induction. The handbook sets out how and when an assessment is set, submitted and returned. This is replicated in the Module Handbooks which are distributed as each module starts. There is a turnaround time of 15 working days from submission to return, to allow time to assess and internally verify grades and feedback. Detailed feedback is structured to comment on strengths, potential improvements, referencing, academic writing and future targets. In addition, all assessments are measured against rubrics, also shared via the Programme Handbook.
Dates and timetables
The academic year runs from September to June.
Full teaching timetables are not usually available until term has started. For any queries, please call 020 8331 9000.
Fees and funding
Your time at university should be enjoyable, rewarding, and free of unnecessary stress. Planning your finances before you come to university can help to reduce financial concerns. We can offer advice on living costs and budgeting, as well as on awards, allowances and loans.
| | Full time | Part time | Distance learning |
| --- | --- | --- | --- |
| Home | TBC | TBC | N/A |
Funding your study
There is a range of financial support options available to support your studies, including the Aspire@Greenwich award for study resources that many full-time students will receive.
Discover more about grants, student loans, bursaries and scholarships. We also provide advice and support on budgeting, money management and financial hardship.
Teacher Trainees without a portable DBS (Disclosure and Barring Service) check are required to undergo a DBS for which there is a charge of £52. Full time students are able to add the cost of the DBS to their student maintenance loan.
Careers and placements
Will I have a work placement?
The placement is a core element of teacher training which enables the trainee to put theory into practice in a supportive environment. We are extremely lucky to work with a wide range of partners across London, Surrey, Essex and Kent and we work closely with trainees when deciding on placements to ensure they get the best training possible. Our strong partnerships ensure our trainees are well supported and have outstanding experiences whilst training with us.

The PCE requires 100 hours of mandatory teaching practice during the period of training. Nescot will provide teaching practice placements for full-time applicants, however, placements are limited and distributed on a first-come first-served basis. Part-time applicants are required to secure their own placement. Wherever possible, assistance will be provided by the course leader. In all cases, engagement in the placement is supported by a subject-specific mentor and a tutor from the teaching team.
What sort of careers do graduates pursue?
This award will fully qualify students to teach post 14 and in the FE and Skills Sector. Former students have gained promotion, taken up new teaching posts or moved from a voluntary to a permanently employed teaching position.
If students wish to teach in a school setting then support to gain QTLS status is provided.
There is also the opportunity at Nescot for further higher education study to acquire a Masters – MSc Applied Management.
Do you provide employability services?
Advice and guidance related to gaining QTLS status are given on the course, as are interview practice and application support. We are proud of achievement, progression and employment rates.
Our Careers 360 team will support you every step of the way to help you progress in your chosen career and our Student Finance team can provide advice to students considering further study.
Support and advice
Academic skills and study support
We want you to feel fully supported whilst you study with us, so we provide many opportunities for advice and guidance, both pastoral and academic. You can access study skills support through your tutor, information literacy sessions, Coursera modules (eg critical thinking, time management), PDP sessions, our subject librarians, and our HE Support Mentor.
All assignments are returned with full and detailed feedback that identifies strengths and recommends how aspects can be improved. Tutorials can also be used as a vehicle to discuss such feedback in greater detail.
Support from the department
Throughout your studies, we will meet your learning needs and help you become a confident and independent adult learner. Identifying ways to support you are acted upon from the interview to the close of the course. You will have access to tutorials with your personal tutor, self-directed or referred access to our HE Support Mentor for guidance to improve your academic writing, and guidance from your placement mentor to aid the development of your professional practice, regular feedback from your personal and module tutor on your academic progress, and peer support and feedback on micro teaches.
Not quite what you were looking for?
We've got plenty of other courses for you to choose from. Browse our undergraduate courses or check our related courses below.....
Teacher training at the University of Greenwich
Study at a university with over a century of experience training teachers. We've got strong links with schools, and our primary education courses are rated outstanding by Ofsted.
Visit our teacher training degrees page.
Mode of study
Select from the dropdown below.
| | |
| --- | --- |
| Course level | |
| UCAS code | |
| Duration | |
| Location | |