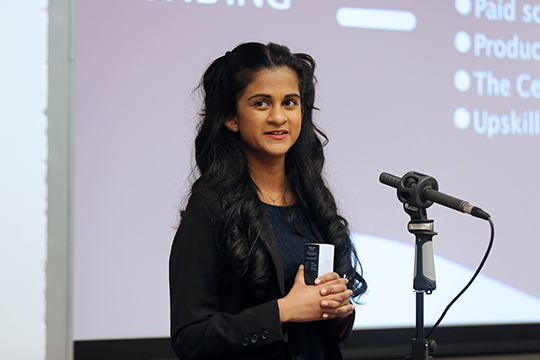 Can you introduce yourself and your business?
Hi! My name is Shelini Surendran and I completed my PGCE in Further Education in 2019. I run Ceilán, a start-up focused around providing ethically produced natural skincare products with two other female founders: Christina Rai and Pelin Oymaci.
Ceilán works directly with rural communities in Sri Lanka and run initiatives to improve their livelihoods. Every bottle sold contributes to providing protection against dengue fever, school supplies and access to clean water.
Our first product focuses on Centella Asiatica, a plant renowned for its skin healing properties (e.g. acne, scarring, fine lines). Our first serum is enriched with vitamin E, which serves as an antioxidant and moisturising agent. Beauty products are also rarely traceable to its farms of origin which is why we're working to bring transparency to our supply chain by implementing blockchain solutions.
What was your experience like of the Enterprise Challenge 2022? What was the most enjoyable moment of the Enterprise Challenge for you?
We had excellent masterclasses run by experts in pitching and running a business. We are still in contact with our 1-2-1 mentor who supported us throughout our challenge. All of the mentors who took part in this challenge all had a wealth of knowledge and experience in running a successful business, so we knew we were in safe hands. Taking part in the finals and winning the title of 'Greenwich Entrepreneur of the Year' was definitely our favourite part of the challenge.
What were you able to gain through the Enterprise Challenge?
The Enterprise Challenge helped us gain our confidence in public speaking and pitching our business in front of aspiring entrepreneurs and business owners. We feel that this experience has definitely given us a boost of confidence for our next pitch!
The competition was an eye-opening experience that has enriched us with all the knowledge needed to kickstart a successful business. During the semi-finals and finals, we were able to network and form friendships with other finalists and leaders in tech and ecommerce sectors and are now in contact with two of the finalists to discuss implementing a blockchain solution for Ceilán to create a transparent supply chain.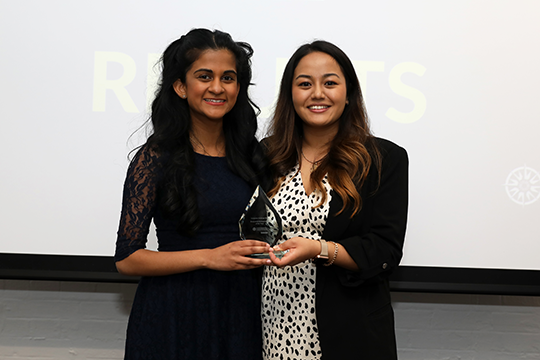 What have you been able to achieve since the Enterprise Challenge?
Since the Enterprise Challenge, we were featured in a 3-month beauty showcase with British Vogue from April to June 2022 (digital and print) and were included in their "Hello To The Glow" beauty showcase! We are now also fortunate to be stocked in three shops (Exquisite Beauty, madeby_ and Arden and Scott)
We have also been able to support our farming communities. We have allocated a section of the Ceilan farm to grow crops to provide daily food for the residents of Werrelegama, Sri Lanka. As providing crops is a short-term plan to address the current economic issue in Sri Lanka, we have also started to cultivate 75 banana trees that will provide income for the employees of the farm once the trees are matured (approximately one year). The sale of bananas will allow the farmers to add reasonable income to their monthly expenses.
One of the farmers working on the Ceilan farm sent us a message saying: "Thank you Ceilan team, for the help for me. Because of Ceilan funding, I am able to send my daughter to school and it has let me keep my head up high" (Translated from Sinhalese).
What advice would you give to people who are looking to take part in the Enterprise Challenge in the future?
It's never too late to start a business you are passionate about. You don't need a degree in business to start up your own enterprise, you just need the drive, passion, and commitment to start. I would definitely recommend students or alumni who are considering starting a business, to get in contact with Generator and apply for the Enterprise Challenge!