Can you introduce yourself and your business?
Hi, I am Clinton Liu and I am the CEO and Founder of MCG! I have an LL.M. in Business Law and a Ph.D. in Logistics and Supply Chain. Modular Clinton Global (MCG) is an AI and Blockchain-driven company whose mission is to shape the Food and Pharma supply chain industries in the emerging physical internet era. MCG aims to enhance the traceability and carbon visibility of the supply chain process through the use of AI and Blockchain technology. The company's main goal is to empower individuals whilst taking a modular approach to achieving sustainable development goals.
What was your experience like of the Enterprise Challenge 2022? What was the most enjoyable moment of the Enterprise Challenge for you?
MCG UK had great experience with Enterprise Challenge 2022 and we went through the semi-finals and the result was great combination between MCG whole team and experience advisors especially with our financial advisor David. The most enjoyable moment of the Enterprise Challenge is learning from and connecting with likeminded people, it really helps shape the growth mindset for greater good.
You also are one of our Start Up Visa Graduates! How has the Start-Up Visa helped MCG to grow?
Through the start-up visa, MCG was able to expand its market resources and visibility through the various growth accelerator programs offered by a wide range of institutions across the UK. MCG has now expanded its network, acquired additional team expertise, and established greater financial support through the UK's available scale-up programs and funding schemes. By receiving these support services, MCG was able to engage with potential investors, secure funds, acquire team talent, and obtain essential wisdom to enhance its business model, governance structure, and socio-economic impact. MCG is now on track to develop its prototypes by implementing marketing and execution strategies aimed at establishing a competitive advantage through the unique set of products and services it offers.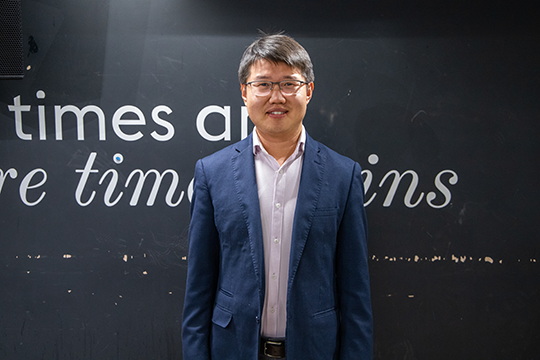 What are some of your greatest achievements for the business so far?
MCG has participated in: IMO-UNEP-Norway Innovation Forum, the IMXH 2022- UK's leading supply chain exhibition, corporate member day (CMD) hosted by UK's Chartered Institute of Logistics and Transport, Enterprise challenge at the University of Greenwich, and 2 company-based projects with Cranfield university.
The company has also joined the Digital Supply chain Hub Consortium Testbed initiative and was a finalist at the Best of Royal Greenwich Business Awards 2022 in which we were shortlisted in the 'Technology Innovation Award' Category.