Can you introduce yourself and your business?
My name is Abdirahman Ahmed, and I am a BA in Business Management graduate. Growing up in a low socioeconomic household, money was taboo topic. I didn't learn the basics of dealing with money, leading to bad spending habits. I found this attitude and high levels of poverty to be a common theme in all deprived London boroughs.
So, I started Urban Rise, and I aim to tackle poverty through education and by addressing material deprivation in inner-city London so that young people can avoid the pitfalls and challenges I experienced. We raise awareness of the importance of financial education amongst younger people.
How did you come up with your business idea?
My primary motivation to start Urban Rise came from a #GreHacks I attended in my 1st year. I always knew I wanted to become a consultant. But a long-term passion of mine was to be community orientated in the projects I do. The only two ways I knew to do this were to become a youth worker or accumulate a certain amount of wealth and resources I could invest in my community. The hack that I went to introduced to me what social enterprise was and how business with a core social impact can be a viable way to have a massive effect, which in my eyes was the best of both worlds.
I worked on an idea to tackle child poverty, but when researching, I realised that issue was much more profound than the solutions provided. I have always believed in the saying, "prevention is better than cure". That's where is it all started.
What was your experience like of the Enterprise Challenge 2022? What was the most enjoyable moment of the Enterprise Challenge for you?
Honestly, from the whole enterprise challenge, the six weeks of workshops and mentorship were the best part. This is where my business went from just an idea to business viable. My customer avatar was built, and I tested my assumptions. I prepared my financial documents and created a business plan that I use as a template until this day. The mentorship helped guide me through this stage and gave me incredible insight into the long-term objectives of my business. I'd say there were several enjoyable moments, but the best moment was the announcement that I won the audience choice award for the best idea. To be able to seize the opportunity that was presented to me and also it being the first time winning an award in front of my friends and family was a big moment for me.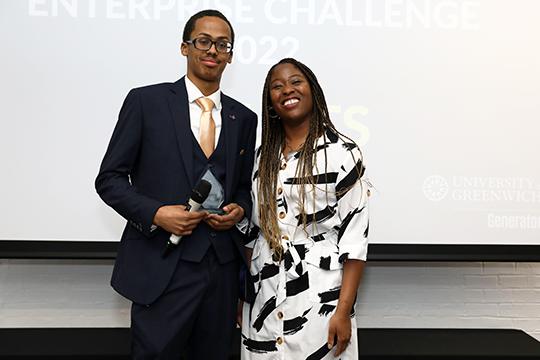 What have you been able to achieve since the Enterprise Challenge?
Since the Enterprise Challenge, I've conducted over a dozen workshops, reaching more than 220 participants, and have generated over £6,000 in grants, crowdfunding, and sales of workshops. I've won grants from Enterprise Nation Hatch and Santander UK and crowdfunded over £800 with Greenwich Alumni. I have also recently made it as a semi-finalist in the Mayor of London Entrepreneur Competition.
And finally, what advice would you give to people looking to participate in the Enterprise Challenge in the future?
Do it – take the leap of faith. At the start of my 3rd of university Sep 2021, I had outlined how I wanted to grow urban rise and the goals for it 1- a year, 3-years and 5-year plan. It's been a year since I took part in the enterprise challenge, and my social enterprise's current state has skyrocketed in every way possible. And that is all due to the workshops, mentoring and exposure that came with going through the Enterprise Challenge.