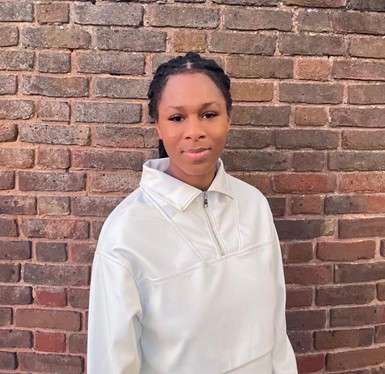 Destiny Ojo, third year Civil Engineering student at the University of Greenwich, is working on a fascinating final year project supervised by Senior Lecturer Deborah Sims. Her project is titled 'Analysing sustainable waste management practices in the UK demolition industry – a case study of a demolition contractor in England.'
She was drawn to this subject when she discovered the construction and demolition industry is "currently observing rising challenges due to waste production." She explains the UK "produced approximately 66.2 million tonnes of construction and demolition waste in 2016" which was 62% of total UK waste that year. With the country – and the world as a whole – becoming more environmentally conscious, Destiny's project is both relevant and necessary. She is also considering the practices contractors are already implementing to meet the UN Sustainable Development Goals of achieving 'Sustainable Cities and Communities.' These are global goals set up the UN in 2015, which are intended to be achieved by 2030. By looking at these goals, and other legislation, Destiny plans to develop a waste management plan for a demolition contractor, with recommendations for minimising waste.
"This project is important as it will help to show why waste is being generated, how this waste has social, environmental and economical impacts, and highlight any potential solutions."
It's an ambitious project, but she has made fierce progress already. She recently visited the 'Worship Square' project, a John F Hunt demolition site, where she was able to carry out detailed research.
She was also able to gain useful insight through practical work she did in her second year, which developed her knowledge of life on site. For the Construction Management and Technology module she studied, she visited a construction site and acted as a Considerate Constructors Scheme (CCS) monitor, where she analysed practice on site using the CCS scoring system and provided feedback.
But there have been challenges. Destiny says it has been difficult so far "finding participation for my primary research questionnaire and gaining access to certain resources." However, through communicating with her supervisor, she is continuing to find solutions and move forwards..
A variety of courses to choose from
Destiny knew she wanted to study at the University of Greenwich's Faculty of Engineering and Science at the Medway Campus. She wanted to commute from home and save money, as she lives within walking distance of the campus – although Greenwich does have courses in Built Environment on offer at its Greenwich campus.
Destiny also knew "with certainty" she was going to study an engineering course. "Coming from a multi-engineering disciplined family, I was always mathematically inclined."
However, she was undecided about which course to choose from the disciplines of engineering, engineering management, engineering technology and electrical and electronic engineering.
After considering her options, she eventually settled on Civil Engineering because of her interest in "different infrastructure projects such as bridges, tunnels and buildings." Her course has enabled her to explore a "range of civil content, from practical activities to computer software designs, such as ETABS, MATLAB and SolidWorks."
Destiny has found there has been "mutual respect, patience and good communication, especially when completing group assignments" with her peers, and that her lecturers "have been able to create a positive class environment where I enjoy learning and achieve my goals."
But the highlight of her course has been the lab work.
"Mostly, I enjoyed the laboratory experiments, which helped to clarify my theoretical knowledge and develop my report writing skills. Through these labs I was also able to work in a team with fellow course students."
Multiple career options
Destiny says, of Civil Engineering, that it has a significant impact on the daily lives of citizens. Civil engineers "help to design, construct and maintain different infrastructure projects, including tunnels, bridges, roads, water supply, etc."
"After graduating, I will have multiple career options, such as working for contracting organisations, consulting engineering companies and more."
She is excited to be a part of civil engineering's impact on everyday life, and, long-term, her goal is to "work as a project manager on a construction or demolition site."
Always interested
Destiny has always been interested in sustainability, particularly in "environmentally friendly and socially conscious companies in the engineering industry" and she believes her project is crucial now more than ever.
Destiny has always been interested in sustainability, and she believes her project is crucial now more than ever.
"Sustainability requires our attention. Being eco-friendly will help reduce physical waste, increase resource productivity and improve quality of life in terms of mortality and disease."
At the University of Greenwich, creating a green and sustainable university is embedded into the university's Corporate Strategy. The Estates and Facilities Directorate are proud to operate to ISO14001 Environmental Management standards, with Scope 1 emissions (including energy and transport) reduced by 46% since 2009/10. The university has also been ranked as a 'First Class University' by People and Planet's Green League since 2012 and has joined the One Planet Pledge to be carbon neutral by 2030.
Simon Goldsmith, Head of Sustainability, says the university is proud to collaborate to help tackle climate change and be making a positive difference.
Destiny hopes her final year project will make a difference on not only her industry, but on the UK as whole. By tackling sustainability issues in one industry at a time, a greener world seems more attainable.