Zoe Robinson's family connection with the University of Greenwich began at a remarkably young age.
Her mother works in the library, so Zoe would come in for visits as a child to help with small tasks and become familiar with the surroundings.
Years later, that family connection would take a different turn, when her father had to make some major life changes to preserve his health - for which a nutritionist was vital.
This prompted Zoe to study a degree in Human Nutrition & Health, where she is now embarking on her third year at our Medway Campus.
"I first realised I wanted to study nutrition after my dad had surgery," she says.
"He had to make some big life and dietary adjustments, which seemed really overwhelming. But the first time he met the nutritionist in the hospital, he started to have a positive outlook.
"I wanted to dedicate myself to the field of nutrition to give people the power to take control of their health and manage their diseases."
'Fast-paced' and 'vast'
Zoe had long been interested in science, but she only became aware of the field of nutrition during her time at college.
She finds the human nutrition & health course packed full of variety, which will appeal to anyone with an interest in natural sciences such as chemistry and biology.
"Among other things, I study the effect of diet on health and the incidence of diet-related diseases," she explains.
"A lot of people would underestimate how much biochemistry we study as part of our course.
"The research in nutrition is fast-paced and vast," she adds. "I enjoy learning things that I think will help me, my friends or family live healthier lives."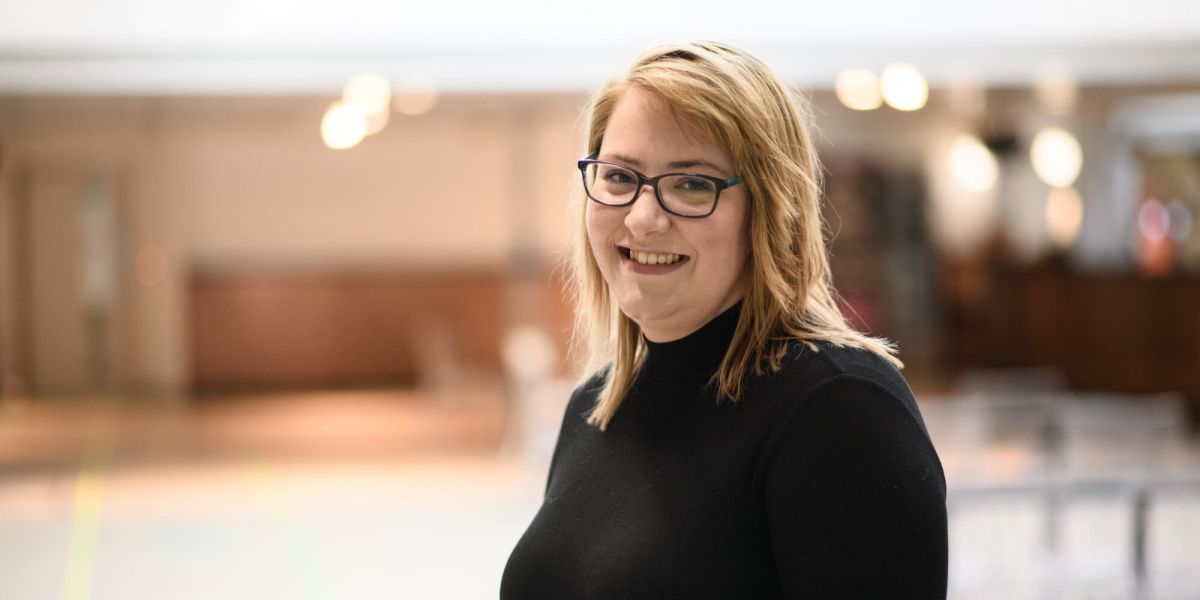 During her time as a student, Zoe has taken advantage of numerous opportunities available at the university.
One of these was a data collection exercise with the University of Oxford which explored behaviours in supermarkets and restaurants as part of the Livestock, Environment and People (LEAP) project.
She has also attended a conference in London, 'Latest insights into the Gut Microbiota and health: from health to practice', from Yakult, the probiotic fermented drink created in Japan.
"It was a great experience to look at research in my field and network with professionals," says Zoe.
"I've done things I would never have imagined."
Promising career paths
As a mum of an 11-year old boy, Zoe has a number of different priorities and motivations to juggle. But she still took the time to consider her options carefully when choosing her degree.
One of the factors she considered was the career routes available for nutritional science graduates.
Potential roles include clinical nutrition and public health, working in research or working with individuals to make informed choices about their diet. The Greenwich course is accredited by the Association for Nutrition, one of only a handful in the UK to have this kitemark.
There is also the option to take further study and specialise in different areas, such as the psychology of dietary behaviours or the pathology of illnesses. And Zoe seems to have caught the studying bug during her time at the University of Greenwich.
"I want to use my degree as a foundation to continue my studies," she says.
"My eventual goal is to help people with nutrition-related diseases. But I'm keeping an open mind about where and what my future will lie."
Find out about UCAS Clearing