Formed of five towns, Medway has a population of 280,000 – the largest conurbation in the South East outside London and boasting a diverse community.
Many of its sights might be familiar to you from TV and film, including The Crown and Call the Midwife.
Taking all our towns, a stunning natural environment and the villages on the peninsula, Medway is a city in all but name.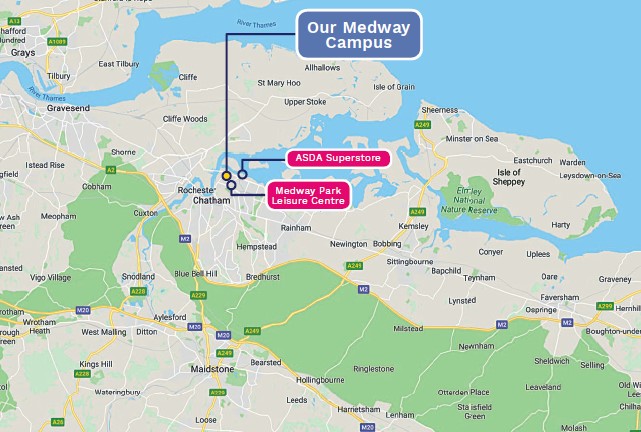 What can Medway offer you?
History: Rochester boasts the country's second oldest cathedral and the tallest Norman keep. The 400-year-old Historic Dockyard in Chatham was one of the Royal Navy's most important sites.
Trend: As well as its history, there's a lively independent social sector, a vibrant festival programme and a stunning natural environment.
Connections: Medway has excellent transport links to London and Europe, including the high-speed service to St Pancras, and Eurostar services from Ebbsfleet International.
Fast Facts
Well-connected by road and rail, and easy access to airports.
Only 34 minutes to central London, 2 hours to Paris and 5 hours to New York.
14,000 businesses across different sectors bringing work opportunities.
Attracting innovative businesses such as Dovetail Games, Fountain Workshop and the Copper Rivet Distillery.
Student focussed: four universities = 12,000 students.
5 million visitors each year supporting growth.
Life on Medway Campus
Student halls are under 10 minutes' walk from the Dockside Retail Outlet, which boasts a variety of restaurants, shops and entertainment facilities, including an Odeon cinema complex.
"I had an amazing time living in halls on the Medway Campus, I made so many new friends. Everything is so convenient and close-by, including bars, restaurants, a supermarket and leisure facilities."
Stefan-Emanuel Codreanu, Marketing and Advertisement Placement
Community Spirit
Medway is a multi-cultural community with people from all over the world. It hosts 30 days of free events every year hosted by Medway Council to support togetherness.
The university's public events include the Pint of Science Festival in May and regular public lectures where anyone can come and learn about the latest research taking place in Chatham.
We also support the local Black Lion Swimming Club at Medway Park Sports Centre in Gillingham. Our new university swim team helps students to achieve their sporting potential alongside their studies.
For more reasons to live, learn, work and visit Medway see visitmedway.org.