Workplace experience is becoming increasingly attractive for employers who are looking for the next upcoming stars for their organisation.
To meet this demand, we recently launched a suite of two-year MSc courses that include an industrial placement. Students spend a year studying before embarking on a placement that they arrange for themselves with our support.
We also work with a specialist partner, TWIN Group, which helps MSc Pharmaceutical Science students find placements in local and regional businesses. It provides the tools for them to make a strong application, such as CV workshops and tailored interview advice.
This has been particularly valuable during the pandemic, giving our students the upper hand in locating hard-to-find placements and making a successful application.
Some of the most vibrant success stories emerge from our MSc Pharmaceutical Sciences with Industrial Practice.
It's the beginning of a career
Deepa Maria knows all about the clinical use of drugs, but for some time she has wanted to know more about how they are developed. She is now studying the MSc Pharmaceutical Sciences with Industrial Practice to learn more about the full production cycle.
"After an internship in clinical pharmacy, I was thinking about how the drugs are developed and made available to be used by patients in a pharmacy or hospital," she explains.
"This made me want to study about the discovery, manufacturing and quality control of drugs."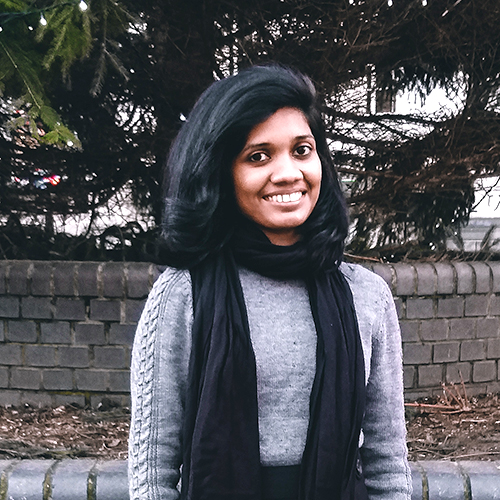 Deepa secured a placement at Bristol Laboratories Ltd in Luton as a Regulatory Affairs Trainee, where she prepares dossiers for drugs to be authorised.
She started searching for a placement in the third term of her master's year with support from the university (and a little help from her mirror).
"I applied through job sites such as LinkedIn, Indeed, Rate My Placement, Reed and various pharmaceutical companies," she says.
"I got constant support from the University and TWIN Group to find a placement during unprecedented times.
"Each interview I attended was a learning platform. I also started interviewing myself in front of the mirror, and this practice made me more confident."
Now that she is putting the theory from her master's course into good use, she has developed a firm interest in the regulatory side of pharmaceuticals. Her sights are now set on a technical role in this field.
"The course helped me to understand scientific documents," she says. "Now I can apply this in Regulatory Affairs by preparing scientific and related documents of drugs and submission to regulatory authorities across Europe.
"After my placement, I aim to become a regulatory scientist in the pharmaceutical industry or in a regulatory authority in Europe," she adds.
"The placement is such a good option to gain practical knowledge. It's the beginning of a career."
I really wanted to work for the NHS
The MSc Pharmaceutical Sciences with Industrial Practice shows how pharmaceutical science can overlap with major public health initiatives, creating expansive future career options.
Meghana Thota discovered this first-hand when she got the opportunity to work in a COVID-19 testing lab.
Since losing her grandfather to cancer as a youngster, Meghana has always wanted to study medicine with the hope of finding cures for diseases. She took the next step on that journey by coming to Greenwich to study the MSc Pharmaceutical Sciences with Industrial Practice.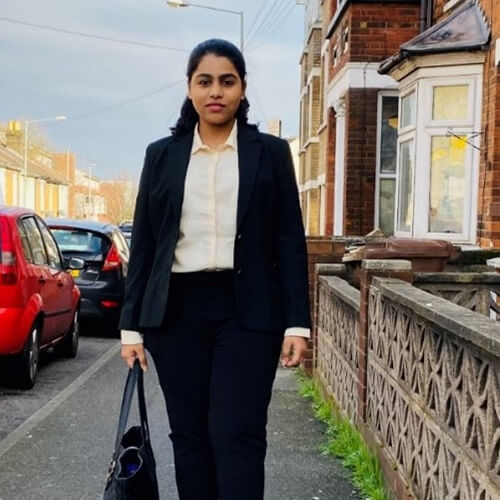 During the COVID-19 pandemic, where many have seen their prospects limited, Meghana saw only opportunity. After searching various NHS sites for a placement opportunity, she discovered a COVID-19 testing programme that required analysts.
She secured a placement at a COVID laboratory near Stansted Airport where she tested live samples.
"This role was something new and challenging and it suited all my requirements. I wanted to be a part of it, so I decided to give it a go," she says. "My tasks included testing live samples for the virus using different clinical techniques. Ever since we were introduced to this unique virus, I really wanted to know more about it, and I'm glad I got the opportunity. I really enjoyed learning different techniques. I really wanted to work for the NHS. I am thankful and proud that I was part of it."
Bespoke help from our staff
Where students take their own initiative to find placements, our academic staff are always happy to support.
Meghana's course leader, Dr Milan Antonijevic, worked directly with the recruiter to introduce extra training sessions for other candidates. This led to six additional placements for Meghana's classmates, who were involved in a globally significant project.
"The university was always supportive," Meghana says. "I'd like to thank Dr Antonijevic, and the TWIN Group. All the seminars and classes really helped me build my confidence and decide what I want to do for my future job. Their support was invaluable."
Meghana believes that the experience will prepare her well for the future and reminds her of the value that pharmaceutical scientists can have in society.
"People in my field tend to become healthcare workers, pharmacists, analysts, and technicians – roles whose job it is to protect and improve people's health," she says. "We make sure that the people around us live a quality life".
"I see myself developing my knowledge and understanding of the sector and making myself useful to society with all the experience I've gained during my studies and this placement.