"I am so proud to be an engineer in a male-dominated area," says Cagla Balaban.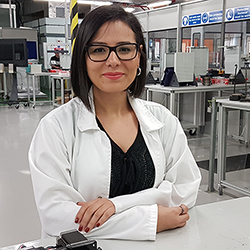 Our former engineering student from Turkey arrived in 2012 to pursue her dream of studying Civil Engineering. She now works for the university as a teaching demonstrator in the laboratories at Medway Campus.
"I did some research and considered many different kinds of universities," she says.
"The University of Greenwich offered exactly what I had been searching for and the decision was an easy one."
UK challenge to recruit engineers
Cagla's role is an important one, as women are often under-represented in engineering, especially in the UK.
Figures from a 2018 report by Engineering UK shows that only 12% of those working in engineering are women.
The UK also continues to languish behind the rest of Europe when it comes to female engineers.
According to 2018 figures from The Women's Engineering Society (WES), the UK has the lowest percentage of female engineering professionals in Europe – at just 10% of the workforce.
This compares poorly to other nations such as Latvia, Bulgaria and Cyprus that lead with almost 30%.
But there are attractions to the field for women, lecturers insist.
"Engineering is an interesting, diverse, and worthwhile career. As engineering impacts on every aspect of our everyday lives, it is important that more young people choose to become engineers," says Deborah Sims, Senior Lecturer in Civil Engineering.
"Over 50% of the population is female, so we really need more women to be involved in designing and creating our environment, technology and products so that the world we live in is better adapted for everyone's needs."
Boosting the number of women in engineering is important not only for gender diversity but also for the UK economy. STEM companies (Science, Technology, Engineering and Maths) contribute over a quarter of the UK's GDP – around £127.6 trillion to the public purse.
Engineering at Greenwich
At the University of Greenwich, degrees range from Chemical Engineering to Civil and Electrical Engineering and are studied in hi-tech laboratories at Medway Campus.
All engineering degrees share a common first year. Students then go on to specialise in their chosen area of engineering. Most of the engineering disciplines offer a four-year course which leads to a master's degree.
Meanwhile, applicants who achieve lower tariff points can enter through an 'extended' degree, which includes a foundation year.
"I certainly recommend studying and working at the Medway Campus," says Cagla.
"The campus is very beautiful and the natural surroundings here are amazing."