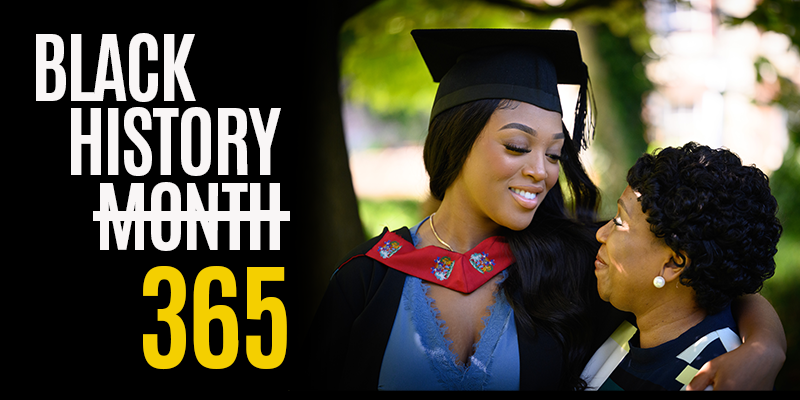 This year the University is excited to launch Black History 365 to change the narrative in recognition that Black history should not start and stop in Black History Month alone. Black history is more than just a month of engagement and takes place 365 days a year. With this in mind, our campuses across the university have scheduled year-long events to acknowledge our history.
The launch of BHM 365 begins with the UK's national celebration of Black History Month 2021 with this year's theme, 'Proud to be', to commemorate the continued achievements and contributions of Black Britons in all aspects of life throughout our history.
We are excited to bring you a range of scheduled events packed with Black history, arts, dance, culture, literature, learning, thought-provoking discussions and networking opportunities.
We look forward to seeing you at our October and year long events. Come, hear and share the stories and events from the African and Caribbean diaspora across the University of Greenwich, the Royal Borough of Greenwich, and the Borough of Kent.
Thank you to the BAME Staff Network, Greenwich Students' Union, staff across the University, Medway Borough Council and Royal Borough of Greenwich.
My very best wishes
Dr Myrtle Emmanuel
Senior Lecturer & EDI Race Advisor to the Vice Chancellor
Events across our community
Greenwich Students' Union are hosting events throughout October, to find out more here is their programme of events.
The Royal Borough of Greenwich have many events happening during Black History Month you can see their calendar of events here.
Events