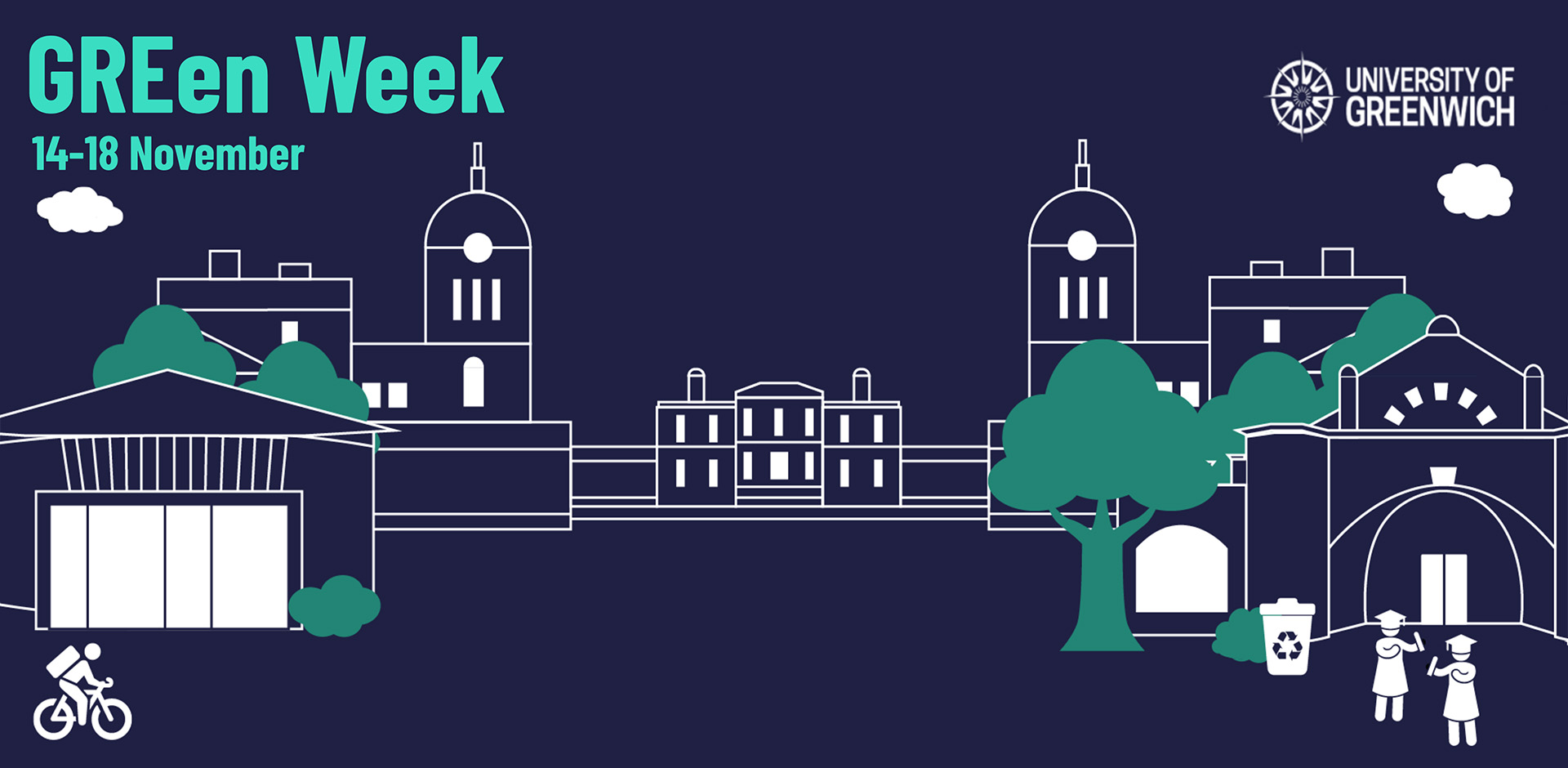 Green Week 2022 (14-18 November) is for information, celebration and inspiration. This year we are encouraging all students and staff to engage with activities we will hold at all campuses. We will be launching GREen Rewards soon, an online platform encouraging students and staff to learn more, do more and potentially win cash prizes individually or as teams.
There are a range of events and activities taking place throughout the week, including GREen Fairs at Greenwich, Medway and Avery Hill.
Find out more about how you can get involved, while celebrating and recognising the incredible work around sustainability taking place at the university. Add the events to your calendar to ensure you don't miss out!
All week initiatives
The launch of our 2022 Sustainability Survey
Climate change, pollution, waste, single use plastics and air pollution affects us all. Complete this short survey to tell us what you think about sustainability and what the University can do to improve. There are prizes to be won if you complete the survey, including Fairtrade chocolates, a week of free meal vouchers at café outlets across the campus, Keep Cups and jars of honey from our campus hives.
The survey takes about 5 minutes to complete and helps us to help you and the planet.
Libraries – sustainability displays
Every year, our libraries donate withdrawn books to local and charitable organisations. This gives the books a second lease off life, and any that become unfit are recycled appropriately. Between August 2021 and August 2022, Drill Hall Library individually donated 5000 books to schools and the Better World Books charity.
During Green Week, all our libraries have created a display of books covering the 17 Sustainable Development Goals in addition to highlighting work being implemented at Greenwich.
Sustainability-focused food
Our catering outlets participating in offering tasty sustainability food options, including:
Fairtrade product discounts
Vegan and plant-based specials on daily throughout the week.
Sub connection special's dedicated to vegetarians
Hedgehog decorated cakes baked freshly and donated to the event.
Will you be visiting the Dreadnought café during the week? Keep an out for our new coffee cup installation, bringing fresh awareness to the issue of disposable cups, and how a simple switch can make a big impact. Do you know how many disposable cups we go through at Greenwich everyday? Visit the café to find out.
Keeping everyone informed
At Greenwich we're committed to our responsibilities and that means informing everyone who's attending or visiting our facilities. Our departments have collaborated to ensure that contractors and any visiting teams are aware of Green Week and how they themselves can support positive change throughout their activities.
Learning about our spikey friends
On Tuesday 15th November, Crafty Wizards Nursery in Avery Hill will be visiting our Avery Hill Edible Garden to have a special lesson with Sophie Elliot, our Student Hedgehog Friendly Campus Champion. They'll be learning about what makes a hedgehog so special and will be crafting their very own spikey friends using natural items found in the garden.