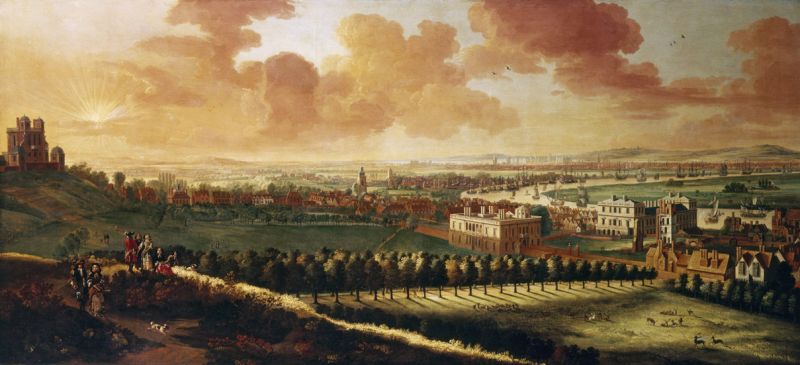 Scans of the National Maritime Museum (NMM) grounds found what appears to be one of the octagonal towers further east than expected. These were the central features of the tiltyard, as depicted in images of the time.
"When people ask me how I spent lockdown, I say 'well, we found a palace'," said Simon Withers, who leads the research group. "It was always known to be underfoot but, until our find, the tiltyard towers had been believed to be elsewhere.
"Ground-penetrating radar sends pulses into the ground which are reflected back giving an image of what lies below. The images recorded on the radargrams are tantalisingly ambiguous and it has taken some time to reconcile these with what had long been considered to be the location of the tiltyard.
"This is part of a much larger scanning project and is incredibly exciting. It all came about, almost by chance, when I was at a drinks function in the Painted Hall, and archaeologist Peter Moore asked me what I do.
"I told him I do 3D scanning and wondered if that would be the end of the conversation. To my surprise, Peter said so he could see a use for that and I should come and meet Jane Sidell, Inspector of Ancient Monuments at Historic England, and it went from there.
"Working with our partners at RMG, with guidance from Historic England, has been a great experience for Captivate, our research group, and we're looking forward to continuing working on this project with them."
The team used an eight-channel high-resolution ground penetrating radar array to survey down to around two metres. Captivate are continuing to work on the project and have been granted access by RMG to their estate above and below ground.
Dr Pieter van der Merwe, Greenwich Curator Emeritus at RMG, said that the scans suggest that foundation remains previously found under the NMM east lawns may be part of the armoury gallery – where fine armoury was displayed – and 1520s banqueting house range to the south.
The 2020 Ground Penetrating Radar survey is undertaken by Captivate Spatial Modelling Research Group and Wessex Archaeology. Other stakeholders in the project are Royal Museums Greenwich, Old Royal Naval College, St Alfege Church, and Royal Parks.
* Picture courtesy of National Maritime Museum, London.