International Day of Women and Girls in Science is about celebrating, sharing achievements, and continuing to highlight the gender inequalities in the sector.
Last year we spoke to Dr Nazanin Zand who is a champion of women in science and is an internationally acclaimed expert in the field of infant nutrition. Her career is a fascinating journey and a rich tapestry of opportunity and accomplishments that she has credited to choosing to pursue a career in science.
Consider the possibilities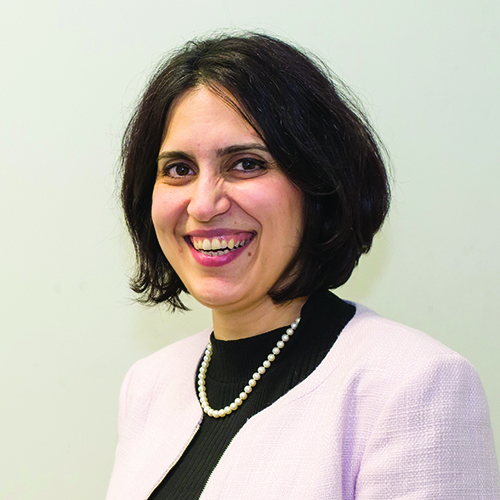 Dr Zand said "my career is founded upon the passion I developed in my late teenage years for finding out how things work the way they do, why and whether there is a different way we could do things. I remember, I was particularly interested in the chemistry of colours and aromas which led me to complete a degree in food science, which I consider to have been the foundation of my scientific career in food, nutrition and diet."
Dr Zand's view is that science has allowed opportunities in her career to make positive change and contribution and that everyone with a passion for science should consider the career potential because of the possibilities,
the most fascinating aspect of being a scientist is the ability to participate in a diverse and broad range of activities and topics. Once you adopt the scientific way of thinking and life, there is always some sort of a contribution you can make to solving problems, however small.

Science in reality is a multidisciplinary career, in which you don't have to stop developing. Science allows me to keep up to date, enjoy scholarly activities, travel around the world and share my findings with the scientific community. Most importantly, science has enabled me to have a career that is balanced around life and family commitments.
Dr Nazanin Zand obtained a BSc (Hons) Degree in Food Science and Technology in 1998, in Tehran. In 2001, she undertook a Master's Degree in Food Safety and Quality Management at the Natural Resources Institute, University of Greenwich, looking in particular at prolonging the post-harvest shelf life of perishable fruits by Modified Atmosphere Packaging. This research led to a position as New Product Development Manager in the Food Industry, developing new food products for young children after Jamie Oliver's campaign for healthy earing in schools. In 2008, she returned to the University and undertook a PhD to investigate the nutritional quality of commercial infant food products, in particular the impact of processing on their nutrient content.
Now an Associate Professor in Food and Nutrition at our university and an internationally acclaimed expert in the field of infant nutrition. She is the author of a number of peer reviewed publications and is frequently invited to deliver plenary and other invited lectures at major symposia and at international conferences on food and nutrition. She leads the M.Sc. in Food Innovation at the University of Greenwich and as a Fellow of the Institute of Food Science & Technology (FIFST) provides food and nutrition advice to both the public and private sector including Kent County Council and the London boroughs of Lewisham and Greenwich. She is frequently invited to contribute to a number of food related projects including 'Good Food in Greenwich (GFIG)', promotion of healthy nutrition in relation to early life development such as "Eating Well: first year of life Practical guide" published by the Caroline Walker Trust and "Baby food in the UK" First Step Nutrition. Her research has also been referenced in Public Health England's (2019) rapid scoping review examining the role and impact of commercial baby foods and drinks on the diets of children aged 4 months.
Dr Zand also undertakes media interviews and has appeared as a food science and nutrition expert on BBC, Channel 4 and Channel 5 programmes.
Full and equal access and participation for women and girls in science
The future of women in science is looking bleak, the United Nations has shared data that less than 30 percent of researchers worldwide are women. According to UNESCO data (2014-2016), only around 30 percent of all female students select STEM-related fields in higher education. The UN relates this data to long-standing biases and gender stereotypes that are steering girls and women away from science related fields. Their are however many things happening to encourage more girls to consider a career in science. Did you know, women are typically given smaller research grants than their male colleagues and, while they represent 33.3% of all researchers, only 12% of members of national science academies are women. (Source United Nations)
Here at Greenwich we offer a wide variety of subjects in scientific fields including our new Climate Change, BSc the only one of it's kind in the south-east of England. We asked Dr Zand why it is important for more women and girls to consider a career in science,
I would like to see more girls considering a career in science as it provides them with many opportunities to reach their full potential, become independent thinkers and to prosper. Science is inclusive yet diverse!
The United Nations is holding the 7th International Day of Women and Girls in Science Assembly, the virtual event theme is "Equity, Diversity, and Inclusion: Water Unites US".
Thank you to DR Nazanin Zand – BSc Hons, MSc, PhD, MIFST, RSci, FHEA, MInstLM