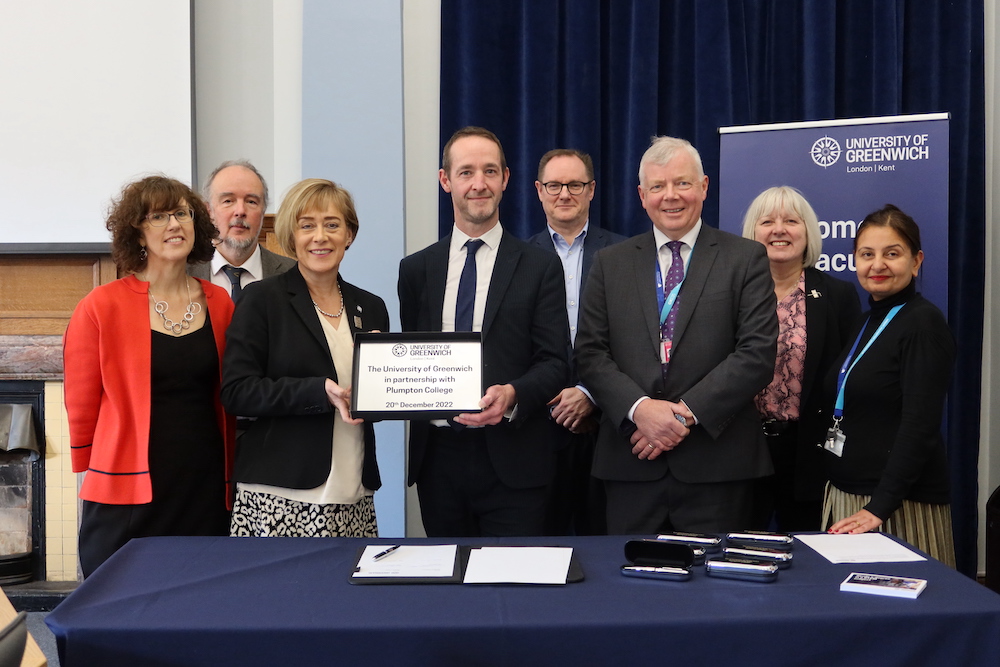 The University of Greenwich and Plumpton College are collaborating on a validation partnership.
Representatives from both organisations signed the agreement today. The link will help both institutions in several ways:
* Validating and recognising the HE courses delivered at Plumpton College
* Widening participation
* Enhancing of student experience and curricula
* Collaborating on research projects
Greenwich Vice-Chancellor Professor Jane Harrington said: "It is great to be here today formally agreeing our partnership with Plumpton College. We share many values – not least our commitment to Carbon Zero – and everyone at the University of Greenwich is proud to welcome Plumpton as our newest partner college."
Plumpton College is an independent land-based college in East Sussex. Established in 1919 it has around 2,500 acres of farmland plus its own wine research facility, producing Plumpton Estate Wines which are sold commercially.
Its programmes fall within the areas of agriculture, animal welfare and wine growing.
The Partnership will contribute to the university's strategy by creating opportunities to ensure programmes are providing work-ready graduates for tomorrow's industries.
Pictured (left to right): Professor Noel-Ann Bradshaw, Deputy Dean, Faculty of Engineering and Science; Professor Ben Bennett, Natural Resources Institute; Vice Chancellor of the University of Greenwich Jane Harrington; Jeremy Kerswell, Principal of Plumpton College; Professor Peter Griffiths, Pro Vice Chancellor and Executive Dean, Faculty of Engineering and Science; Dr Stuart Ashenden, Faculty Operating Officer, Faculty of Engineering and Science; Professor Linda Brownlow, Head of School of Science; Sharon Juty, Higher Education Pathways Manager