On Armistice Day, 11 November, in collaboration with the UK Punjab Heritage Association (UKPHA), Dr Gavin Rand (Associate Professor of History in the School of Humanities and Social Sciences at the University of Greenwich) is launching a project to investigate the role of Punjabis in the First World War – and to help British Punjabis connect to their family histories.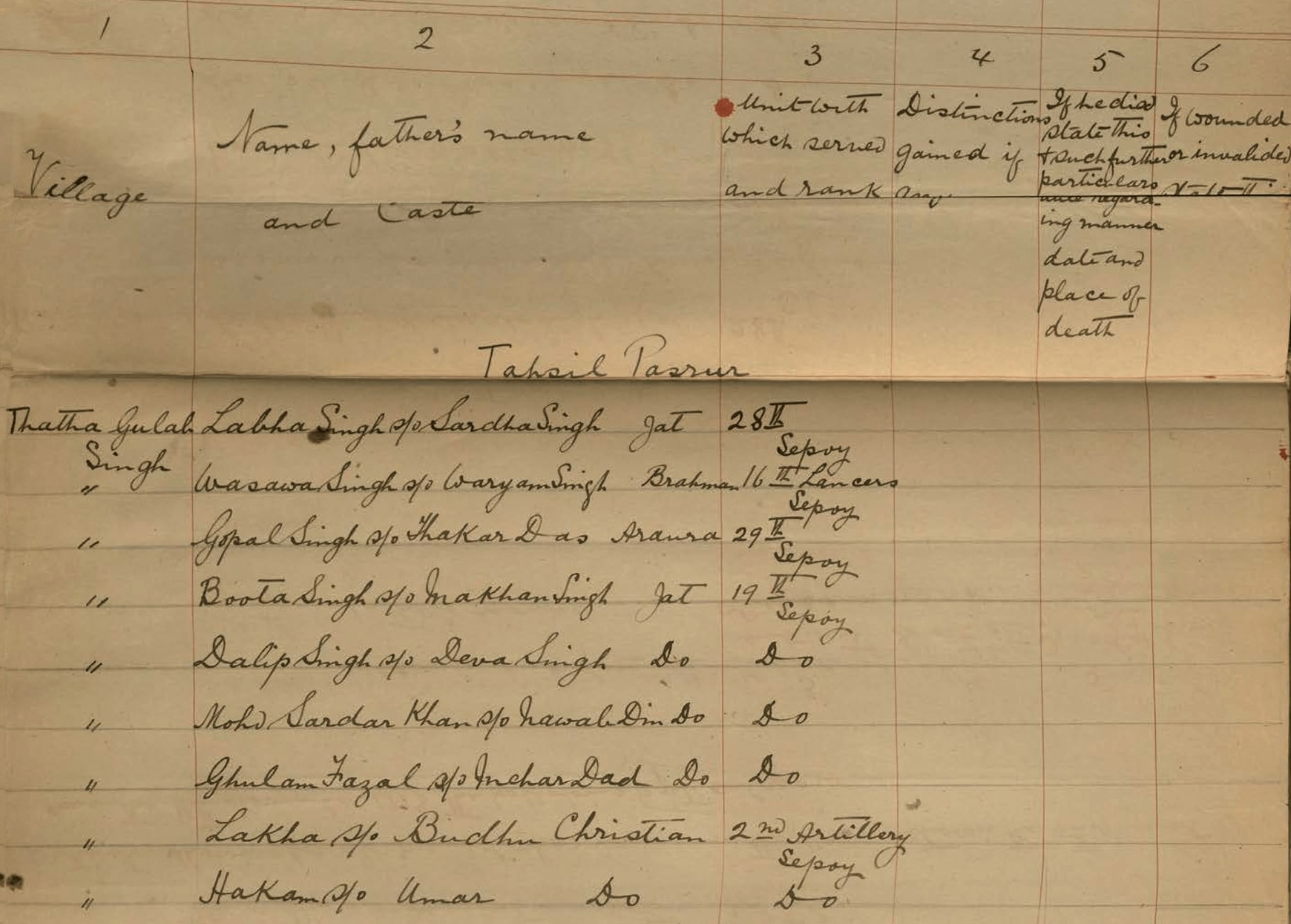 Supported by a HEIF (Higher Education Innovation Fund) knowledge exchange grant, the project has digitised and transcribed the service records of approximately 320,000 Punjabis who served in the First World War. Based on original registers compiled for British colonial authorities in the 1920s, the transcriptions will be made freely available online – allowing Punjabis in Britain, and across the world, to trace the war histories of family and friends.
A sample of the registers, covering the heavily recruited districts of Jalandhar, Ludhiana and Sialkot, from which many British Punjabis trace their heritage, is now available at www.punjabww1.com. The website will act as a repository to collect new histories about those who served. These stories will be an important resource for future research and engagement activities.
Both Gavin and Amandeep Madra, the UKPHA founder, were members of the Commonwealth War Graves Commission's Special Committee on Historical Inequalities. The Committee's report, which was published in April, showed that thousands of colonial and commonwealth casualties were discriminated against in death, contrary to the Commission's founding principle of providing equality of treatment for all casualties. Both the Prime Minister and the Defence Secretary apologised for the historic failures identified in the report.
It is hoped that the new project will go some way towards righting these wrongs – by allowing a more complete picture of Punjab's role to emerge, and by helping to record the names and fates of those colonial subjects who served, and died, in the First World War.
Join us for the online launch event on Thursday 11 November at 1800.
Link here: https://eu01web.zoom.us/j/63156659745
Pictured: A single page from the 26,000 pages of the Punjab Registers, that lists by village
each man that went to war, the community they came from and which regiment they
served in. This page from Sialkot District, now in Pakistan, also shows how the men
were drawn from all the communities of Punjab, in this case Hindus, Muslims, Sikhs
and Christians (UKPHA Archive).