SHIFT (Shared Hub for Immersive Future Technologies) will deliver state-of-the-art collaborative co-production facilities for creative and cultural research.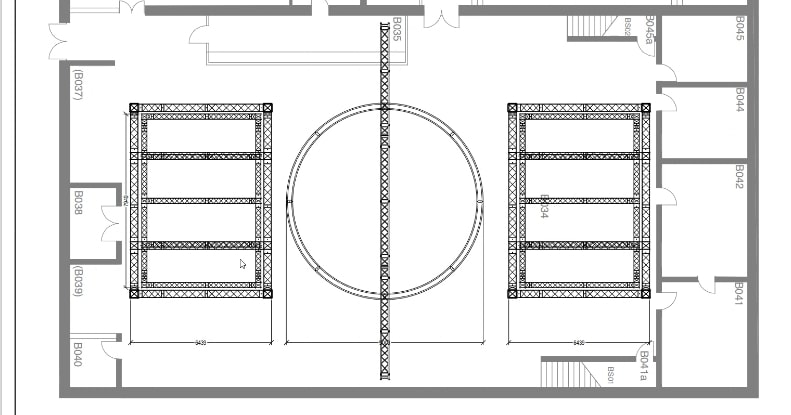 Bringing together practitioners and approaches from drama, film, architecture, music and sound, SHIFT will strengthen existing research and allow for new collaboration and ideas across the disciplines. SHIFT will also raise the profile of practice research, enabling for the exploration of social, political and artistic implications of new immersive tools, engaging communities in South-East London and beyond.
Three physical spaces will be installed or upgraded:
1. Virtual Production Film Studio
Capturing performances against real-time simulated backdrops, exploring the emerging sector of VP and unlocking the potential of new approaches to performance capture.
2. 32 Channel Ambisonic Sound Studio and VR lab
Expanding existing research strengths, providing high resolution immersive sound lab with VR for work in 360º film, theatre, games, data sonification, VR simulation, music and sound arts.
3. Immersive Theatre Upgrade
The new flexible multi-functional performance space for immersion will bring together 360º immersive projection, projection mapping, surround-sound audio, with extended lighting, rigging and digital infrastructure.
Dr. Andrew Knight-Hill, Associate Professor in Sound Design and Music Technology at the University of Greenwich said:
"It's an honour that the AHRC have recognised us as a leading centre for creative research. This new investment builds upon our collaborative ethos in the university bringing together world leading research in music and sound, with drama, film, architecture and performance. We can't wait to get to work in partnership with academic colleagues, local businesses and our local community, to explore the emerging potentials of new and immersive technologies across performance, film and music and apply them in ways that help to make a real difference in the world.
"This new investment will enable the university to continue to contribute to regional development of South-East London via the Woolwich Creative District, and across the UK via long-term partners bringing benefit to students and communities in London and beyond."
Pictured: Digital Theatre diagram