University of Greenwich alumni Steve Malkin, CEO of Planet Mark, was on campus to award a certification that enables institutions and companies like the university to make year-on-year carbon reductions, unlocking benefits in the process, from increased efficiencies and reduced costs to attracting and retaining the best talent.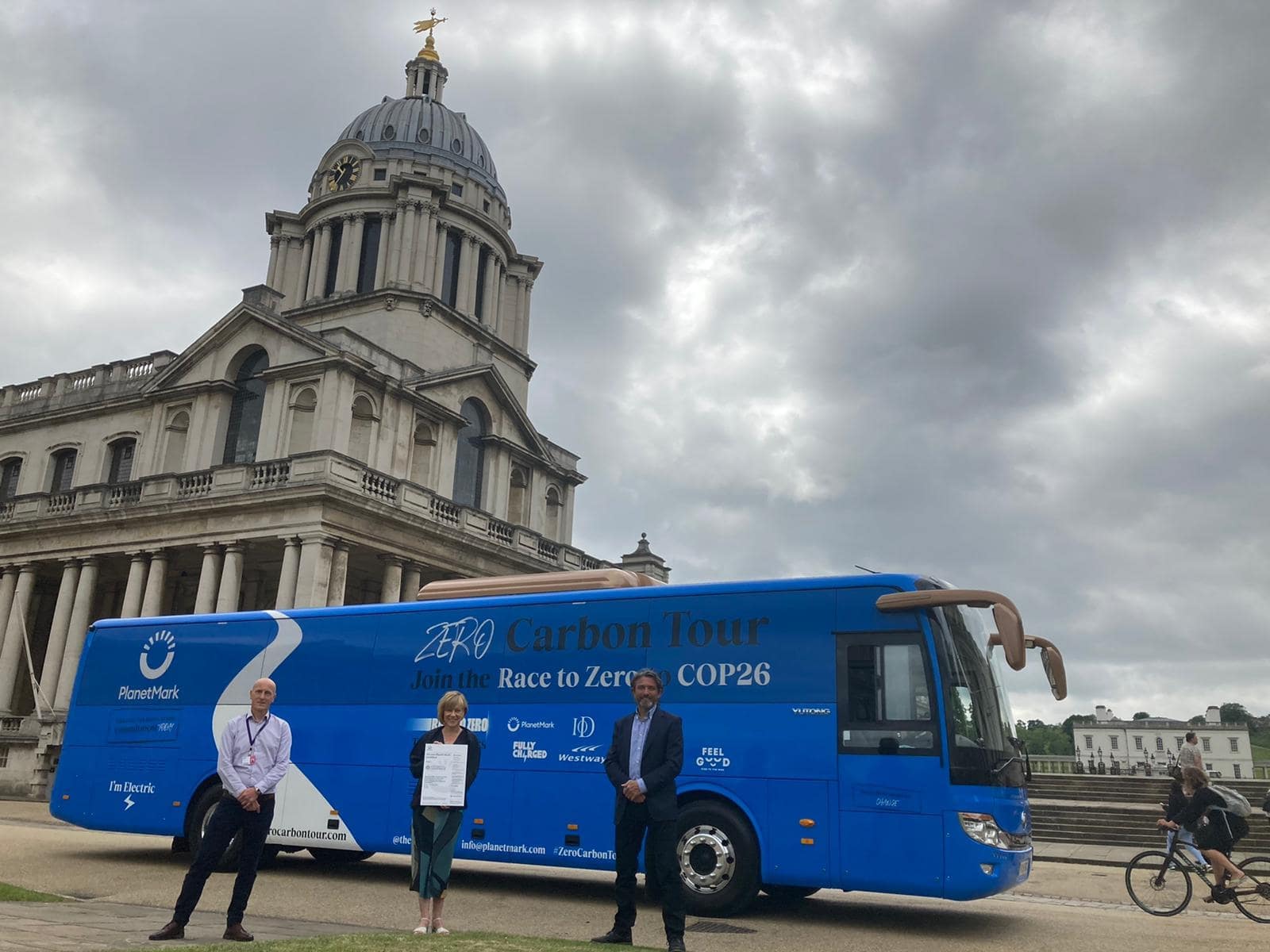 The awarding of the accreditation from Planet Mark, further signals the University of Greenwich's commitment to being carbon natural by 2030.
The Planet Mark, fully electric, battle bus was parked up on the iconic Greenwich campus and welcomed by the Vice-Chancellor, Professor Jane Harrington and Head of Sustainability, Simon Goldsmith.
Planet Mark CEO Steve Malkin then presented Jane and Simon with the certificate of accreditation.
The battle bus left Greenwich and headed for the Eden Project, Cornwall to coincide with the G7 summit.
Vice-Chancellor, Professor Jane Harrington said:
"We are delighted to receive this recognition from Planet Mark. As we launch our Strategy 2030, it is vital that we mark these milestones on our journey to being net zero carbon by 2030. Receiving this accreditation from a former student makes it even more special, both as we see our former students leave the university and succeed, and then return in their professional lives to help the university and the wider society to continue to go from strength to strength."
Head of Sustainability at the University of Greenwich, Simon Goldsmith said:
"Every organisation has to take responsibility to rapidly transition towards net zero to keep our climate within safe limits. At Greenwich we have made our ambitious 2030 commitment recognised by Planet Mark. Our work with them, and the contributions from our staff, students and wider partners will help us to cut our energy use and carbon and also encourage others to do the same."