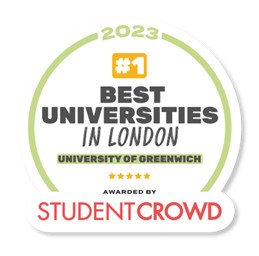 With an average star rating of 4.61 out of 5, we are pleased to have taken the top spot, growing our score from last year's average review score of 4.26. This is the second year we have won this award, placing #1 in the 2022 league table.
Vice-Chancellor & CEO, Professor Jane Harrington said:
We are delighted to be StudentCrowd's Best London University. This award is extra special, as it is judged solely by students and winning it two years in a row is something we are very proud of. Our students rate us so highly because of the hard work and commitment that all staff put into supporting them and ensuring that their time with us is positive and rewarding.
To compile the Top 10 league table, StudentCrowd analysed the data of over 900 verified student reviews of universities in London between January 2022 and January 2023. Each student gave their honest opinion of their university across five categories: campus & facilities, clubs & societies, students' union, careers service and Wifi.
This is the only award for UK universities calculated purely on verified student reviews.
One student reviewer on StudentCrowd described their experience at Greenwich:
I had the time of my life, the education was exceptional but more importantly I had the best experience. I have made lifelong friends and will definitely recommend Greenwich university to anyone who is considering higher education.
We have also ranked highly on StudentCrowd's live league table, having placed at #2 out of all the universities in the UK.