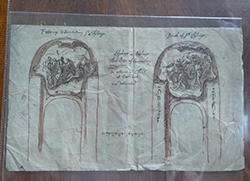 A University of Greenwich PhD student has helped to identify an historic drawing which has been locked away in a Greenwich church for centuries.
A drawing by Sir James Thornhill, who also painted the famous ceiling in the Old Royal Naval College Painted Hall and the dome of St Paul's Cathedral, was unearthed in archive boxes in St Alfege Church.
Alison Fisher, currently studying for a PhD at the university, uncovered the sketch with Rebecca Parrant, the church's Heritage Engagement and Interpretation Manager.
Alison said: "The drawing style and apparent age of the sketch immediately reminded me of the preparatory sketches for the Painted Hall at the Old Royal Naval College.
"The handwriting on the drawing was identical to Thornhill's and there was an element of disbelief, along with a sharp intake of breath, when we realised the sketch was one of his."
Images of the drawing were sent to Dr Richard Johns from the University of York, who is an expert on Thornhill and a member of the Old Royal Naval College Project Advisory Panel.
Dr Richard Johns said: "There's no doubt that the drawings are by Thornhill. The handwriting is as much of a giveaway as the drawing itself. You can see the designs have been sketched in red chalk before being defined in ink—still very provisional, but sufficiently detailed to allow a discussion between artist and patron about the two proposed subjects."
Alison had been awarded a Vice Chancellor's Scholarship to enable her to look into the church's history and its place in the country's local and national heritage.
The research was undertaken as part of the Heart of Greenwich: Place and People project funded by the National Lottery.
ends