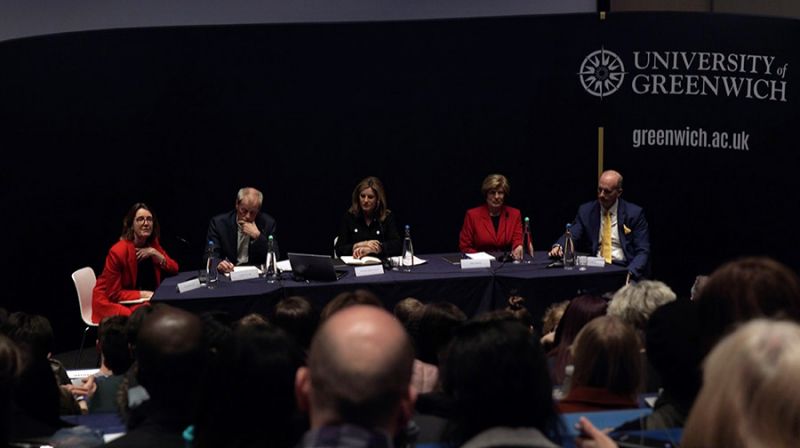 Four high-profile speakers from across the political spectrum took part in a panel debate at the University of Greenwich on Monday (25 March), discussing all things Brexit just weeks before the UK is set to leave the EU.
Former Labour MP and current prospective parliamentary candidate Sally Keeble, President Emeritus of the Foreign Press Association in the UK Jürgen Krönig, Social Policy Editor of the Economist Emma Duncan and Professor of International Economic Law David Collins all took part in the debate, which was chaired by broadcaster and journalist Andrea Catherwood.
Jon Sibson, Pro Vice-Chancellor for the university's Business School, said: "With Brexit being delayed and a potential deal seemingly no closer to fruition than it was months ago, it's more important than ever to hear different viewpoints and debate the merits of each.
"Monday's debate amply demonstrated that constructive conversation is still possible around the subject and all of our panellists made some interesting and thought-provoking points throughout the evening."
Professor David Collins tackled the issue of a second referendum, calling it: "a disastrous idea, it would be an assault on democracy such as this country has never seen. It would basically be saying to anyone that voted leave: 'Your vote doesn't count.'"
Sally Keeble answered a question on how Labour can balance the mix of leave and remain voters in their heartlands, explaining: "The Labour party's position is to look for a soft Brexit and a second referendum, so that we're absolutely sure that we respect what happened and we recognise the pressures that led many in labour areas to vote leave.
"We have got to deliver [Brexit] in a way that makes sure we don't damage the interests of labour voters in those leave areas who will see their jobs hit and we also try to maintain the benefits of close integration with Europe, which I'm sure are the kind of issues that the people here would feel."
Jürgen Krönig provided an international perspective and spoke on what the EU should do, saying:
"Britain is an enormous loss [to the EU]. Recently a figure was published in Germany – 200,000 jobs are in danger because of difficulties of exporting cars into Britain."
He added: "Europe needs to reduce its ambitions. It shouldn't try to become a super state with a constitution…Britain never had this idea of overcoming the Nation State. The Nation State is intrinsically linked with democracy."
Emma Duncan spoke about the impact on the UK economy and the reaction of business to any potential Brexit deal, asking: "On the future trading relationship and WTO trading rules, will it be bad for us? I don't know, and that's the problem – nobody really knows. Business hates uncertainty, that is the thing that business hates most. That is bad for all of us because it disinclines business to invest."