Key details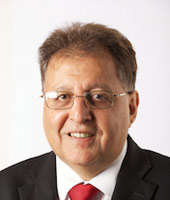 Dr Mamad S Pourhosseini
Senior Lecturer in Economics
---
Dr Mamad Pourhosseini graduated with first class Honours in economics from Pahlavi University in Shiraz. At postgraduate level he studied economics at University of Birmingham and won the Birmingham Chamber of Commerce prize for the best Master's student. Following the completion of his PhD in economics, he worked as a civil servant in Papua New Guinea, later becoming the economic advisor to the Deputy Prime Minister and Minster for Finance. In 1989 he joined the United Nations, UNDP, first as a project manager then as the senior advisor and finally as the chief technical advisor working in the Pacific Rim. In the early 1990s he worked as a consultant for the World Bank consultative meetings in Singapore and Tokyo. In 1993 he was appointed team leader of the Manila-based International Labour Organisation (ILO) employment project for two years.
Dr Pourhosseini was later the ILO Mission member of the UN Inter-Agency Mission to Bougainville and assisted the preparation of a comprehensive programme for rehabilitation and reconstruction of the island. In 1995 he became the macroeconomic advisor to the Structural Adjustment Programme Secretariat through an assignment funded by the Japanese Grant Facility for Structural Adjustment and executed by the World Bank. Following the completion of this project in 1995 he became a freelance consultant working for the Pacific Insurance Pty Ltd, Brisbane, Australia; Deloitte Touche & Tomatsu (Papua New Guinea), JCE Consulting (UK), Cobham UK, Tanorama Consultancy Pty Ltd, Canberra and IDP Education Australia Ltd, Canberra.
As an advisor to the Papua New Guinea treasury he participated in the World Bank-IMF annual meeting in Washington in 1996. He joined the East Asia Research division of the World Bank in 1996 working in Washington DC for three years. Between 1999 and 2004, Dr Pourhosseini worked full time as senior lecturer in financial econometrics at Brighton Business School. He later worked as an economics instructor for the UBS bank in their offices in London and Jersey.
In 2008–09 Dr Pourhosseini was a tutor at Mountbatten Institute MBA programme. In 2010, he was invited by Frigoglass to teach ERP as part of a training programme in Industrial Management Systems in Istanbul, Turkey, Timisoara, Romania and Orel, Russia. In May 2011, he conducted a two weeks intensive course in financial markets and institutions at Anhui University, Hefei, China. In addition to teaching at University of Greenwich, Dr Pourhosseini is an adjunct associate Professor of Finance at Richmond, the American University in London, and will be teaching finance courses on the Regent's college MSc. Programme in Global Banking and Finance in the academic year 2011–12.
Research / Scholarly interests
Dr Pourhosseini is familiar with recent developments in computing and information systems: between 2007 and 2010, he studied part-time software engineering and received a Postgraduate Diploma in Software Engineering from Kingston University in January 2011. In July 2008 he participated in the two weeks Intensive programme on Information and Communication Security in Regensburg, Germany.