Key details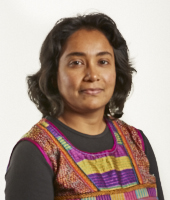 Nilanjana Sensarkar
Lecturer in International Business
---
Nilanjana Sensarkar joined the University of Greenwich in September 2011 as an international business Lecturer.
In 2014, she received the PGCert degree, pursued at the University of Greenwich. Previously, Nilanjana completed her LLM Masters in Law degree at the School of Oriental and African Studies at University of London, UK in 2006. She completed a BA LLB (Hons) Bachelors in Law at National Law Institute University, Bhopal, India in 2004.
Research / Scholarly interests
Nilanjana teaches International Business Law and her focus is on Intellectual Property Rights Law. She specialised in this area while undertaking her Bachelor's and Master's Degrees.
She has also written papers on diverse areas of Intellectual Property Rights Law including Copyrights, Trademarks and Patents. However, her special interest remains in the area of Copyright and the entertainment industry.