Key details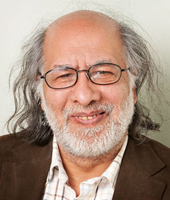 Professor Babur Z Chowdhry
Emeritus Professor of Biochemistry
---
Professor Babur Chowdhry obtained a BSc Hons Chemistry/Biochemistry in 1976 from Chelsea College (London University), followed by a PhD Biophysical Chemistry at the same institution in 1980. From 1980–84 he was a Postdoctoral Fellow in the Department of Chemistry, Yale University, USA.
His post-doctoral work centred on experimental thermodynamics using, among other techniques, high sensitivity differential scanning calorimetry. Much of the work involved detailed calorimetric studies in the burgeoning areas of liposome phase transitions and protein denaturation.
Professor Chowdhry joined the School of Sciences at the University of Greenwich in 1985 as a lecturer in chemistry, biochemistry and biotechnology and was appointed to the Foundation Chair of Biochemistry in 1993.