Key details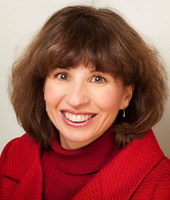 Professor Lauren Pecorino
Professor in Cancer Biology
---
Professor Lauren Pecorino obtained her PhD in Cell and Developmental Biology at the State University of New York at Stony Brook, USA. She then moved to London to carry out a post-doctoral tenure at the Ludwig Institute for Cancer Research where she studied the phenomenon of limb regeneration. Here she used a technique called biolistics using a 'gene gun' to shoot gold bullets coated with DNA to introduce genes into the regenerating limbs of live newts.
Since 1996, Lauren has been a member of academic staff at the University of Greenwich, where she developed her interest in teaching Cancer Biology. She is the author of the textbook entitled The Molecular Biology of Cancer: Mechanisms, Targets, and Therapeutics, now in its fourth edition, published by Oxford University Press. She is a Fellow of the Royal Society of Medicine, Fellow of the Royal Society of Biology, and Senior Fellow of the Higher Education Academy.
Professor Lauren Pecorino was commissioned by Oxford University Press to write a book linking molecular processes underpinning cancer to the development of therapeutics. She uses the text in the teaching of the final year university course Cancer Biology, and for some MSc lectures.
The book, Molecular Biology of Cancer: Mechanisms, Targets, and Therapeutics, offers a fresh approach to the study of the molecular basis of cancer, and shows how our understanding of the defective mechanisms driving cancer is leading to the development of targeted therapeutic agents.
The key hallmarks of cancer as a disease state, the principal components of the regulatory machinery through which cell division is controlled, and the way in which the failure of these components can lead to the onset of cancer, are all addressed, drawing on the latest research. Each chapter ends with a description of the application of our knowledge to the development of new targeted therapies. Aspects of Professor Pecorino's teaching method are illustrated by special features presented throughout the book, such as 'Pause and think' and 'How do we know that?' The fourth edition of this book has been published and translated into other languages.
Responsibilities within the university
Assessor of Higher Education Academy Fellowship applications
University Course Leaders Group
Module Leader
Cancer Biology and Therapeutics
Fundamentals of Biochemistry
Genetics
Metabolism and Disease
Module participation
All of the above and:
Cell, Immunology and Microbiology
Clinical Nutrition
Energy, Life, and Resources
Integrated Therapeutics for Pharmacy
Human Molecular Biology
Laboratory Classes
Medical Biochemistry
Specialised Topics in Human Nutrition
MSc Applied Molecular Biology
MSc Drug Discovery and Medicinal Chemistry
Media activity
Live Radio Interview Radio Kent 2012
Financial Times: Originated article and quoted in article by Clive Cookson 2011
Interview with MDM Wonderlance – Cancer: The battle continues. 2010