Key details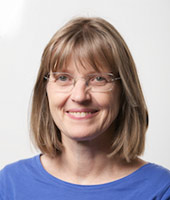 Dr Julie Watkins
Senior Lecturer
---
Julie started her career as a motion graphic designer and animator at Spitfire Television, which was owned by the founder of Molinare. Over the next 20 years she went on to work as lead creative in motion graphics and visual effects for a number of prestigious post-production facilities in Soho and later in Manhattan. She designed concepts and storyboards and was in charge of technical direction and shoot supervision, leading animation teams, creating motion graphics and visual effects for commercials, broadcast graphics, music videos and films.
She began teaching Advanced Flint/Flame part-time at New York University whilst continuing to work in post-production. In 2006 she joined the University of Greenwich and set up and ran a film and television degree in partnership with the BBC. She has designed and delivered moving image courses for practice-led students of film, television, animation and digital-media. Her focus is on the ever-evolving relationship between new forms of moving image, new approaches and technologies and the creative industries.
Julie's qualifications include: PhD Composing Visual Music from an Animator's Perspective, FHEA Higher Education, MA in Graphic Design (Distinction), and BA(Hons) 3D Design.