11 April 2022 (afternoon ONLINE) - symposium presentations
Full programme timings to be shown here soon.
60 Miles by Road or Rail

Andy Routledge reflects on '60 Miles by Road or Rail', a year-long arts, heritage and community project exploring the legacy of Northampton's New Town story through a range of intergenerational activities. These included a new theatre production at Royal & Derngate, a co-created verbatim audio poem, a documentary film, the recording of 26 oral history interviews and an award-winning photography exhibition. In his presentation, Andy will share the process behind the project and the discoveries he made within contemporary, place-based documentary theatre practice.

Andy is a Director and Dramaturg interested in projects that explore complex, social subjects in dynamic and innovative ways, enabling a collaborative space for artists to create bold work whilst offering a good night out for intergenerational audiences. His main areas of interest are new writing, devised work and storytelling

From The Ground Up

Siobhan O'Neill speaks on the role of metaphor in interpretation of memories in, an inter-generational co-devised performance, which enabled community participants to share lived experience of an urban common in north-east London. This paper will consider how participants generate meaning in the connections between their diverse memories, opening out possibilities to subtly challenge stable personal and collective narratives.

Dr Siobhan O'Neill is a Research Fellow in the school of Architecture at the University of Portsmouth. Siobhan locates her theatre-making at the interface of oral history and applied performance. Her doctoral research at Royal Holloway College considered shared ethical questions around who should have the authority to tell a community's narrative.

Streaming Truth: Land-Based Truth Activations in the Digital Realm

Jill Carter will reflect work on the St George Campus of the University of Toronto by a collective of indigenous and non-indigenous artists and researchers. Using archival research and 'land-based' practices, Jill will explain the process and product of the resulting site-specific events and share the questions that have arisen as its devisors move forward with the process they have begun to develop.

Jill is Assistant Professor at the Centre for Drama, Performance, Indigenous Studies. She isan Anishinaabe-Ashkenazi theatre-practitioner, researcher and educator. Her research and praxis base themselves in the mechanics of story creation, the processes of delivery, and the mechanics of Affect. In 2019, she co-devised and directed the first indigenous production in the century-long life of Hart House Theatre, Toronto.

Tribunal Theatre

Tom Cantrell on 'TribunalTheatre and Approaches to Listening'. Tom will consider the complexities of using the words of real people in Richard Norton-Taylor and Nicolas Kent's play 'Value Engineering: Scenes from the Grenfell Inquiry'. He will explore the relationship between the original testimony and the way in which it is crafted into live performance.

Dr Tom Cantrell is a Reader in Theatre at the University of York. He has published four books on acting, recently focusing on how actors approach playing real living people. He is currently exploring research and development in contemporary British theatre.

The Cancer Stories Project

Joseph Sobol will discuss 'The Cancer Stories Project': a template for performing illness narratives' from cancer patients, family members and medical professionals. Joseph will share the process of conducting interviews and devising a performance piece designed to support instructional modules on empathic communication for medical students and residents.

Dr Joseph Sobol is Professor of Storytelling at the University of South Wales. From 2000-2017, he directed the Graduate Programme in Storytelling at East Tennessee State University, supported by the National Institute of Health.

The Social Documentaries of Peter Cheeseman

Rachel Walker will talk about the process of archiving the significant body of Theatre work of Peter Cheeseman at the Victoria Theatre, Stoke-on-Trent. Peter developed a unique approach to creating social documentaries, drawing on and incorporating local people's testimony. He has been a vital creative force in British theatre ever since. Rachel will talk about the development of this archive, based at the University of Staffordshire, as an on-going process, led by Romy Cheeseman, the Honorary archivist.

Rachel is a theatre historian who has recently been awarded her PhD by the University of Sheffield. Her thesis examines the early work of Peter Cheeseman and the Victoria Theatre, Stoke-on-Trent. Her research interests include regional theatre history, theatre-in-the-round, verbatim and community theatre.

Archiving Reminiscence Theatre

Pam Schweitzer will demonstrate how her many Reminiscence Theatre shows produced over 25 years are being archived. This includes digitising the recordings of interviews on which the productions are based, developing playscript from transcriptions of these interviews, through to the resulting touring productions. The creation of a website has made it possible to share both the process and the product, and provided students with inspirational material for their own creative work.

Pam is developing the archive and website of Reminiscence Theatre working partnership with the University of Greenwich. She is also teaching about Reminiscence Theatre and leading the development of reminiscence in dementia care across Europe. She has been a member of the Oral History Society since 1982 and is a regional networker for the London area.

The Reminiscence Theatre as a Resource for Students

Natasha Oxley has been working with Pam Schweitzer to facilitate devised drama work created by undergraduate students using reminiscence theatre techniques. She will outline the ways in which students have used the Reminiscence Theatre Archive, interviews and memory boxes, highlighting selected examples from performances. She will also present her findings about the positive impact of this intergenerational work on undergraduate students.

Natasha lectures in Drama at the University Greenwich. She leads modules on Theatre for Young Audiences, Acting, and Applied and Socially Engaged Drama, on which Pam has taught Reminiscence Theatre for several years. She also co-teaches on other modules including Staging New Writing, which draws on her interests in contemporary Polish playwriting.

What a Voice!

Martine Robertson and Hannah Wood present 'What a Voice!' Ethnology as Performance, GaelGal Creative Productions. They will share their experience of converting interview material into a film and then into a live performance. 'What a Voice!' is a short film, featuring the recorded voices of three generations of women from the same family living in the shadow of the shipbuilding industry of Port Glasgow on the River Clyde.

Martine and Hannah of GaelGal Creative Productions, are motivated by a desire to bring hidden stories out of the archives and onto centre stage. They are greatly inspired by the work of the School of Scottish Studies Archives at Edinburgh University.

An Amazing Life: Performing Queer Intergenerational Holocaust Testimony'.

Erika Hughes presents a work of documentary theatre that stages excerpts from a series of oral history interviews between the lesbian Holocaust historian Anna Hájková and Margot Heuman, a survivor of Auschwitz, Thereseinstadt, Neuengamme, and Bergen-Belsen. In this presentation, she will show excerpts of 'The Amazing Life of Margot Heuman', a deliberately interventionist queer performance that sought to fill a critical gap in Holocaust history.

Dr Erika Hughes is Reader in Performance at the University of Portsmouth, where she also leads Performance area in the School of Art, Design and Performance. Her work as a director and deviser of performance has been seen on stages in the United Kingdom, the United States, Germany, Israel, Canada, and Pakistan

Oral History and Scenography

David Hockham begins to bring his work on practice research and practice learning, Oral Histories and scenography, in a paper called scenographic stories. This is a first attempt to bring together his work over the past five years working with communities, storytelling and his doctoral research on learning vocational practices.

David is theatre manager of the Bathway Theatre, the University of Greenwich's dedicated drama facility at the university of Greenwich. He is co-director of international touring theatre company dead rabbits theatre who tell true stories through highly visual images and will have defended his PhD thesis at the beginning of 2022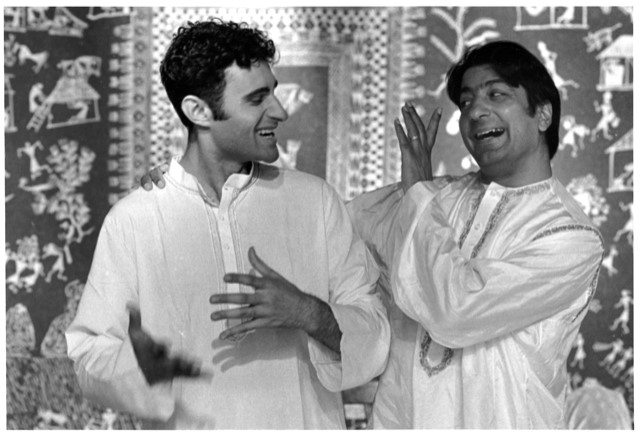 Registration
This event is free to attend thanks to the generous support of our sponsors, but all participants whether online or in-person must register. For those attending online the Zoom link will be emailed in advance.
---