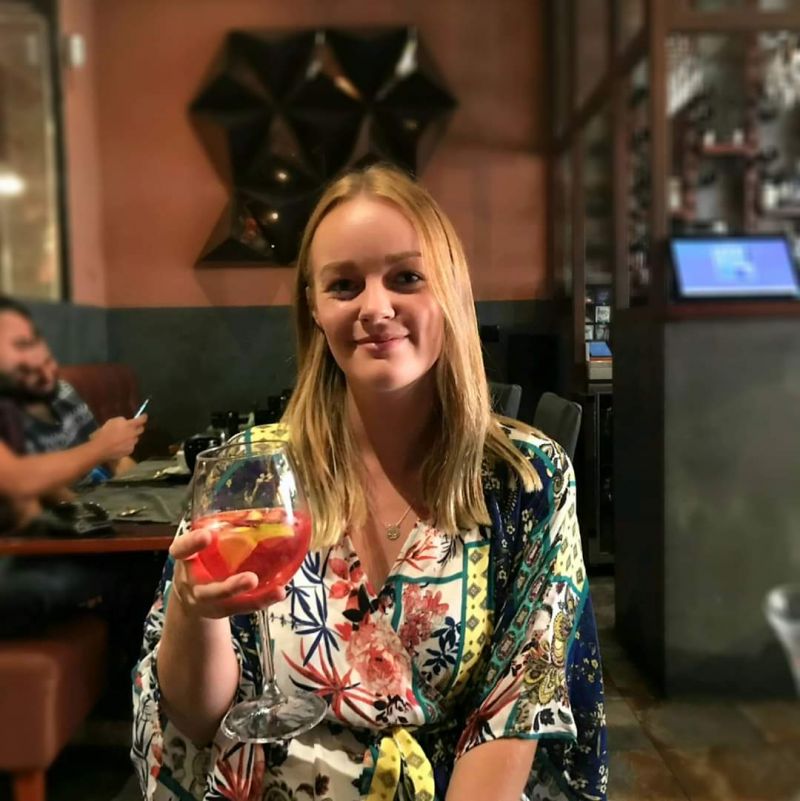 Sophie had not originally planned to study for the PGCE. She had planned on studying a master's in Criminology. But she realised that she wanted to enter the working world. Sophie then considered entering teaching and researched what teaching qualifications were available. Luckily enough, Greenwich offered the perfect PGCE in Further Education and Skills Sector, and so from there she applied.
Despite the circumstances of COVID-19, Sophie said that the course exceeded her expectations. Particularly in terms of being able to deliver all the content online, and in some cases, even the physical teaching element. "The course offers some incredibly interesting and stimulating modules which question and offer an understanding into the different elements of teaching" Sophie told us "I found it particularly interesting researching the different theorists and their contributions to our understanding of pedagogical approaches."
When we asked Sophie about her lecturers, she explained: "The main thing about the lecturers within this course is that they are so helpful and just want to see everyone succeed in their ambitions to become teachers." She goes on to praise the staff: "Tracey Partridge is the fount of all knowledge when it comes to working through your portfolio and ensuring you are getting the most out of your placement. Samina Qureshi leads on several of the modules within the course. Her aim is to offer an insight into the different pedagogical approaches, but also the role of policy and curriculum within the education sector. Finally, Michelle Best is the brains behind research into education and teaching. Excitingly, her module grants the opportunity for students to conduct their own small piece of research. An incredibly stimulating module which allows you to investigate an area of teaching you find particularly interesting."
Sophie explains that "One of these lovely ladies will also be your mentor and strive to make you succeed in all areas of your teaching qualification. I can honestly say, they are the perfect team, and I do not think I would have managed half the things I did, especially during numerous lockdowns, without them!"
Although much of the course, due to COVID-19, was online, Sophie said that she made many friends on the course, even though she had not met any of them face-to-face. "I was able to form some wonderful relationships through MS Teams and WhatsApp." She told us. "The bottom line was that everyone on the course wanted to succeed, and so we were more than happy to help those struggling or feeling a bit lost. Overall, it felt like a little family!"
Sophie said that her placement was incredible! She was placed in the School of Law and Criminology at the University of Greenwich. "I worked within several different modules with a range of amazing lecturers. Dr Melissa Pepper has had an immeasurable impact on my teaching journey. She allowed me to understand that I have knowledge that many people want to listen to and gain for themselves, and that teaching can be so rewarding. Yet, it was also OK to acknowledge that I do not know everything, and it is OK to admit
this. I was able to lead in specific topic areas I was passionate about, and structure my teaching in ways that benefitted every student." As well as Dr Pepper, Sophie goes on to praise Dr Maria Kaspersson, Dr Richard Wild, Merlinda Bajo and Dr Alexandra Fanghanel.
Sophie told us that her main expectation from the course was to gain an understanding and experience on how to be a successful teacher, but also contribute to her goal of eventually becoming a university lecturer. Following the completion of the course, she applied for several jobs looking for a Criminology teacher. "Amazingly, I was offered an interview for a position as a Criminology, Psychology, and Religious Studies teacher. The interview went incredibly well, and I was offered the position!" Sophie said.
Currently, Sophie works at Brakenhale School in Bracknell, Berkshire and teaches three different subjects. Her specialism in Criminology, plus two other subjects that she is passionate about - Psychology and Religious Studies. This job sees her currently teaching a range of academic years, including year 12 and year 13, and years 7, 8, and 9.
Finally, we asked Sophie if she would recommend the course. She answered:
"Absolutely! The University of Greenwich is a wonderful university whose PGCE lecturers want to see everyone succeed in their teaching journey, and they most definitely achieve this by facilitating incredible lectures and seminars which not only inform you but challenge your pedagogical development. Sophie finishes the interview by telling us "I am so thankful I took the decision to enter teaching and chose to study at Greenwich!"
We thank Sophie for sharing her story with us and wish her all the best for the future!