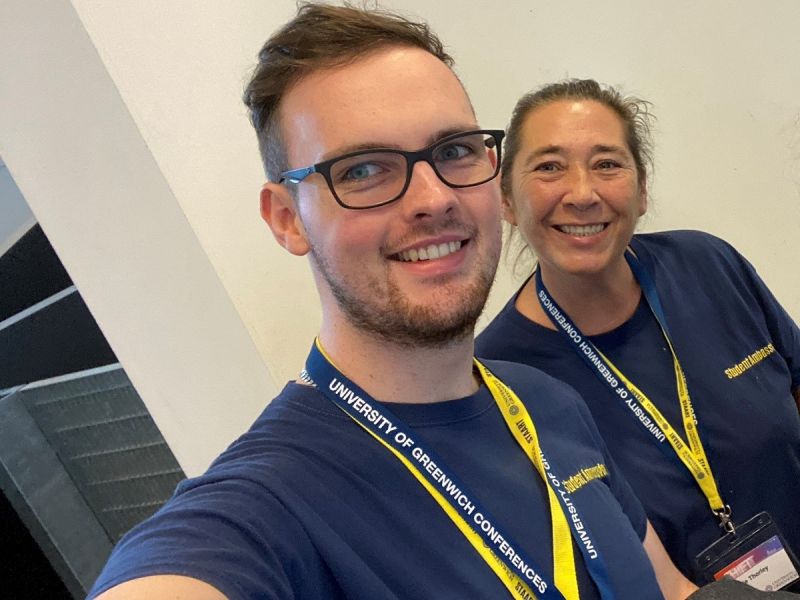 Bradley Cory had planned to become a pilot, but a stroke at the age of 16 led to a different path for the gutsy biologist.
After spending so much time with medical staff in hospitals, Bradley spent a gap year working on a stroke ward, giving back to the NHS and the people that had helped him.
It was this experience that prompted the idea of studying a biology degree, given the wide range of careers available to graduates.
"I chose the University of Greenwich to study biology because it was close to where I lived and to family," he says. "It is also an amazing university doing great things."
Learning adjustments for students
Bradley experiences dyslexia and has reduced mobility after his stroke, so he needed a university with a strong support system.
The University of Greenwich provides this through its STAART initiative. This scheme supports disabled students and those with specific learning difficulties and long-term physical and mental-health conditions.
Students who are referred to STAART make an Inclusion Plan with the Student Wellbeing team.
The adjustments for these students might include extra time for exams, additional help in the laboratory (such as a scribe), or adapted learning materials - which is especially important for scientific degrees.
They can also consider arrangements for ground floor facilities where possible.
"I can't talk more highly of STAART," says Bradley.
"STAART is one of the main reasons I came to the university, and one of the biggest driving factors that kept me going."
In keeping with his dedication to give back to those who help him, Bradley works as a Student Accessibility Ambassador, helping with enquiries from prospective students with additional needs.
Dr Melanie Thorley, who leads the STAART initiative and has worked with Bradley for the past three years, describes him as 'outstanding'.
"He is an inspiration to everyone," she says. "It's not just that he can overcome challenges, but he wants to help others embark on the same transformative journey as his own."
"I believe in my ability"
After graduating with First-Class Honours, Bradley is now pursuing a PhD in biology.
From a series of early knockbacks, the university experience has managed to convert his doubts into effortless confidence.
"If you'd told me eight years ago that I would be graduating with a First-Class Degree with Honours in Biology, I would have not believed you," he says.
"For once, this was a chapter of my life that I was turning for myself. And I was not scared - I knew what was ahead of me."
Head of Biology, Dr Abigail Rickard, describes Bradley as a 'model student'.
"I'm personally very proud of his determination towards fulfilling his career ambitions," she says.
Bradley is now researching the biology behind wound healing in the specialist biology labs at Medway Campus. He aims to become the first STAART member to graduate with a doctorate.
"I believe in my future. I believe in my ability," he says. "In light of everything, physically and mental-health wise, this is what I'm destined for.
"Greenwich and STAART believe in me, and now I have to push the boundaries by myself."
Find out about UCAS Clearing