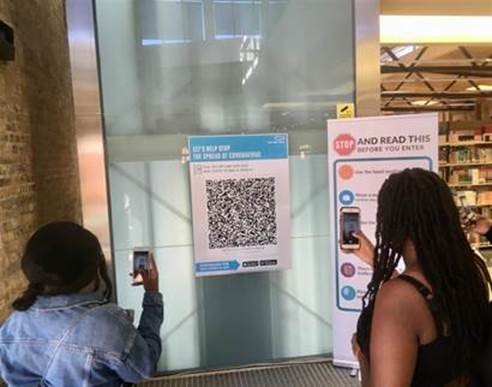 In each of these venues there will be a QR code for you to scan on entry. Please download the app in advance if you can, so that you do not experience any delays accessing these spaces - and tell your friends and colleagues, so they can also download the app.
Please remember to maintain social distancing at the entry points to these spaces.
You can download the app from your usual app store, and instructions are provided for Android and iOS downloads if you need them.
The app is one of the ways we can all support the NHS by reducing the spread of Covid-19, and using it also forms part of our Being Covid-Safe advice.
The app has six key features which provide you with maximum freedom and minimum risk
This will help you, our whole university community and local communities, they are:
1. Trace
Get alerted if you've been near other app users who have tested positive for Covid-19, with advice on what to do.
2. Alert
The app lets you know the level of Covid-19 risk in your postcode district. When you first register you will be asked for the first half of your postcode. You can check the app the app to see whether where you live has become a high risk area, if it is you will also receive a notification to let you know.
3. Check-in
Get alerted if you have recently visited a venue where you may have come into contact with Covid-19. The app records the time you spend at the venue without recording any personal information.
4. Symptoms
Check if you have Covid-19 symptoms and see if you need to order a free test. The app will give you a list of potential symptoms and you can choose the ones that apply to you. It will then tell you if your symptoms suggest you have Covid-19.
5. Test
If you have Covid-19 symptoms the app will take you to a website where you can book a test to see if you have Covid-19 or not.
6. Isolate
If you have been advised by the app to self-isolate, the app provides a countdown timer so that you can keep track of how long you need to self-isolate. When you reach the end of your self-isolation period, the app will send you a reminder with a link to the latest advice.
You can find out more about the app, including answers to common questions, in this explainer document provided by NHS Test and Trace.
Protect your loved ones. Download the app.