About
The Big Picture Seminars are a series of free public guest seminars, given by industry professionals from a variety of fields. They share their expertise on a range of topics – from entrepreneurialism, leadership and management to financial forecasting, the economic climate and the media today.
The array of speakers and subjects are designed to appeal to a wide selection of students, with the intention that the lectures will meet some of their learning needs, or teach them something new, as well as inspiring them for the future.
The series has grown into a full programme of events, attracting high profile speakers, covering a wide range of topics and appealing to as many as possible. The programme is also accessible to the local communities, so they too can benefit from the wealth of knowledge the Business School has access to.
Big Picture Seminars take place on a Wednesday evening, from 5pm until 6pm, on a weekly basis throughout October 2023 and fortnightly basis from November 2023 onwards. These seminars are virtual for the time being.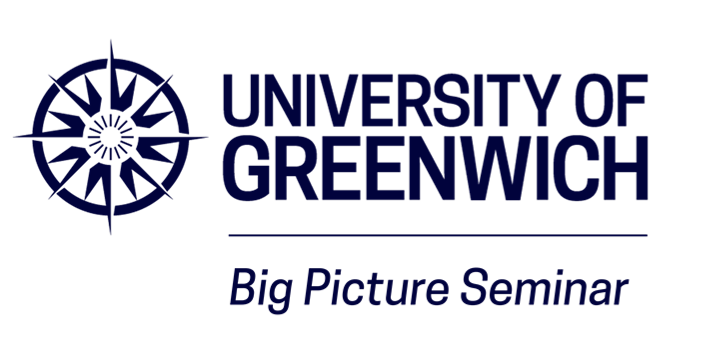 'We are immensely proud of our Big Picture Series which brings together speakers from a range of diverse backgrounds to inform, inspire and motivate our students to make a difference and realise their dreams.'
- Professor Leigh Doster, Pro Vice-Chancellor & Executive Dean of Greenwich Business School.
---
Registration
Advance booking is required to attend these seminars.
Please arrive early to avoid disappointment, latecomers may not be permitted entry.
These are free public seminars.
Passport Points
University of Greenwich students are eligible for receiving Employability Passport Points for attending these seminars. Passport points are issued following seminars upon proof of attendance detailed in each seminar and are subject to individual student behaviour. Any individual who is not behaving in a professional, respectful manner, may be asked to leave the seminar and will not be issued with Passport Points.
Photography Disclaimer
Photos will be taken throughout the seminar for social media and marketing promotional purposes.
If you do not wish to be photographed and would like to remain out of shot, please notify the Business School Events Team via email and upon entry to the lecture room.
For any further information on the Big Picture Seminar Series please contact us.
Want to deliver a seminar?
The Big Picture Seminar Series is growing into a full programme of events, attracting high profile speakers, covering a wide range of topics, appealing to both students and general public, meaning we are always searching for new speakers. The topics of presentation are largely down to the personal preferences and expertise of our speakers.
The seminars take place on a Wednesday evening, from 5pm until 6pm. The delivery format is virtual for the time being, but we are happy to accommodate in-person or hybrid delivery formats at the speaker's preference.
In-person talks take place in our large lecture theatres, which can hold up to 150 people and are fully AV equipped.
If you are interested in delivering a seminar, please register your interest here.
The Venue
The Big Picture Seminars take place online for the time being (links to sessions are on the speaker pages) but may return to our Greenwich Campus in the future: Room 303, King William Court, Old Royal Navy College, Greenwich, SE10 9LS.
The largest of our three campuses, Greenwich Campus sits on a World Heritage Site on the banks of the River Thames. It is centered on three baroque buildings designed by Sir Christopher Wren for the Royal Navy at the end of the 17th century.
You can find out more about it in our campuses section.
Excellent transport links provide a 10 minute train journey to Central London.
DLR Cutty Sark (approx. 3 min walk)
Greenwich and Maze Hill (approx. 8 walk)
Greenwich Pier - Ferry service (3 min walk)
TFL buses frequently run close by.
Public 'Pay and display' car parks nearby.
Campus bus service between campuses.