31st Mar 2021 3pm - 6pm

Campus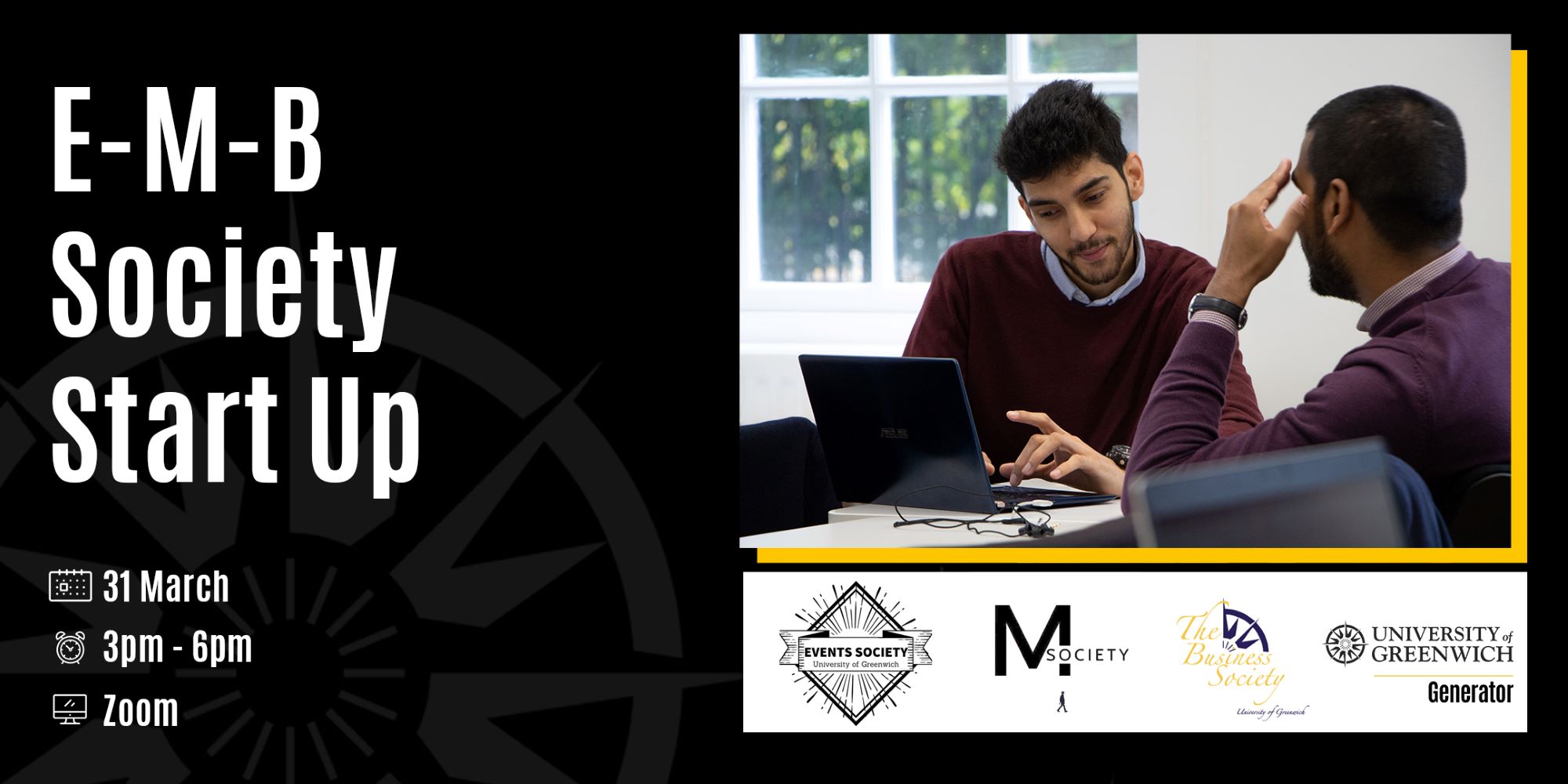 About this Event

In collaboration with Events Society, Marketing Society and The Business Society, the Generator is hosting E-M-B Society Start Up.

We will be hosting a series of panels which you can join, listen too, ask questions in and learn from, on a range of topics from the Enterprise Challenge, the future of the events industry, advertising via social media and much more! See full timetable and more details below!

Once you join the main Zoom room, you will be able to move freely throughout the breakout rooms and determine which panels you want to join. Whether you want to hear just 1 or all 5, that's up to you!
Room
Panel
Time
1

Welcome and Intro
Networking Area
Keynote Speech - Christopher Hall

3:00 - 3:15
3:15 - 5:15
5:15 - 5:45

2

The Enterprise Challenge - Top Tips and Q&A

3

Small Businesses and COVID 19
The downside of Social Media Advertising and its impact on brands

4

How to Earn whilst you Learn
The Future of the Events Industry
The Enterprise Challenge – Room 2 – 3:15 – 5:15
Are you interested in taking part in the Enterprise Challenge next year? Join us for this panel to hear all about the ins and outs of the Enterprise Challenge. Our panel will be talking about they highs and lows, how they developed their idea and their top tips for anyone thinking about taking part in the future. (Remember the Enterprise Challenge is open to all current students and to graduates up to 2 years out)

The speakers for this panel are:
Mihnea Zamefirescu: Mihnea made it to the Semi-finals this year, with his idea "Distilled Passion Games", a start-up Indie game development studio which is currently developing "Motherland of Old", a psychological horror video game.
Sylvia Ikomi: Winning the Social Enterprise Competition 2017, with her enterprise 'No Child Left Behind Consultants', Sylvia designs workshops to support teachers educate children and young people that have had an adverse childhood experience.
Bradley Cory: Brad is a PhD student and current finalist of the Enterprise Challenge and has developed 'Barrier Free World' which produces 3D printed equipment to help those with disabilities.
Jamal Hadjkura: Jamal is co-founder of JDM Social, an award-winning social media agency which won the Commercial Category in 2018. Jamal has also mentored during this year's Enterprise Challenge as well as hosting one of the Enterprise Challenge workshops.
Small Businesses and COVID-19 – Room 3 – 3:15 – 4:15
Are you wondering how small businesses master the obstacles caused by COVID-19? Join us for a panel discussion and together with our guests we will explore how COVID-19 impacts work settings and how these changes will possibly influence businesses in the future. Together we will discuss the biggest lessons learned during the crisis and how to best survive uncertain circumstances as an entrepreneur.

The speakers for this panel are:
Sonny Drinkwater: Sonny has set up his own business, Snackcess! He provides gift boxes of healthy snacks for businesses to post to employees working at home, selling over 800 boxes in September 2020 alone
Jenna Davies: Working at the IAM Hub, Jenna organises online workshops and events about public speaking and communication skills development, helping businesses and entrepreneurs to communicate with confidence and impact
Marijus Perlavicius: Marijus has launched his own e-commerce business as well as his own marketing agency and has worked as a freelancer, working with over 30 start-up businesses on website development to videography.
Jamil Hoque: Jamil is in his 3rd year and has started his own business during the pandemic called SANNY, selling wristband/watch style products which attach to hand sanitizer, so you don't forget it whilst travelling and has already sold nearly 1,000 units.
How to Earn whilst you Learn – Room 4 – 3:15 – 4:15
This panel will be talking about how you can start a side-hustle during your studies and start making money! We will be joined by a range of speakers that have all had non-conventional part time work alongside their studies, from freelancing to social media influencing and will be discussing the skills needed, how they coped and their top tips.

The speakers for this panel are:
Sydney Simmons: Sydney is a 3rd year student, working as a plus size, body positive fashion influencer and has worked with brands such as Boohoo, Nasty Gal, SHEIN, SavageXFenty and many more.
Aivis Atvars: Aivis is a serial entrepreneur currently working as the Managing Director for Light Lash Ltd, an eye beauty brand, boosting the confidence of false eyelash users by making the application process easy and fast for anyone.
Daniel Najafi: Daniel is the co-founder of award-winning social media agency – JDM Social, which currently work exclusively with Fashion and Food & Beverage brands. Daniel has been working with Social Media since a young age and is passionate about the work that he does.
The downside of Social Media Advertising and its impact on brands – Room 3 – 4:15 – 5:15
Social media is seen as the most effective advertising nowadays. Companies use media platforms to connect with audiences to build a brand, increase sales and drive traffic to social media pages. This involves many activities, as well as organising. On 31st of March, we will have guest speakers who will introduce us to their personal experiences with the advantages and disadvantages of social media advertising and the impact it has on brands.

The speakers for this panel are:
Chloe Wonga: Chloe is a 2nd year Marketing Management Student currently working as a brand designer and marketing strategist at The Graphic Kingdom. Chloe aspires to become a Market Analyst after graduating.
Wafa Sharif: Wafa has developed her own business alongside her studies which matches designers to millennials who are fashion-conscious and allows them to customize their clothes to fit their fashion style
Ollie Stewart: Ollie is a 1st year student who has started their own Social Media and TikTok Management business 'Faster Social' which employs students to help them gain experience. Ollie has also worked as a digital marketer for a charity, as well as for a college.
Katie Meehan: Katie is also a 1st year student. Alongside her studies, Katie is also a blogger, influencer and equality champion. Katie has been featured on BBC Three, This Morning and more!
The future of the Events Industry – Room 4 – 4:15 – 5:15
Over the past year the world and events have changed massively, some say that the events industry needed the push to catch up to technological advances but others have shyed away from virtual events. We have gathered this panel here to discuss the future of the events industry and how it will impact event professionals going forward. Will it be more sustainable events? More hybrid events? Or will there be an increase in VR? Join us to find out

The speakers for this panel are:
Dr Rob Davidson: Rob is the Managing Director of MICE Knowledge, a London based consultancy specializing in research, education and training services for the meetings and events industry. In 2016, Rob won the 'Best Conference Speaker' at the Global Events Awards.
Nicola Roodt: Account Director at Green & Pleasant Events, a creative events agency that reinforces human connection through shared experiences. Nicola is also the creator of the Event Professionals podcast '1up'.
Samantha Salisbury: Samantha set up Jonsam Events in 2006 which provide academic conferences and corporate events to a portfolio of high-profile clients. Samantha has also worked in places such as Wembley, American Express and the New South Wales Cabinet Office.
Lisa Sweeting: Lisa specialises in environmentally and socially conscious event solutions. With a career spanning over 15 years within the events industry Lisa has managed events from 70 to 7000 for private, corporate, and charitable organisations both live in person and virtual events.
Keynote Speech from Christopher Hall – Room 1 – 5:15 – 5:45
Chris Hall set up his music events business Braindrop with two friends when he graduated from Nottingham University. Braindrop grew to become one of London's top nightclub events between 2006 and 2011. He'll be talking about starting a business with no funding, the unexpected challenges you have to deal with in the events industry, and how to do effective marketing with little to no budget.
This is not an event you want to miss! Don't forget to register by clicking here
CURRENT STUDENTS; CURRENT STAFF; ENTERPRISE