Key details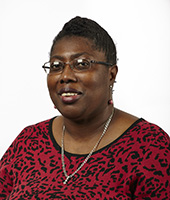 Dr Charmaine Brown
Senior Lecturer
---
Dr Charmaine Brown joined the University in 2002 as a lecturer in the School of Education on the Post Graduate Certificate in Education (PGCE), distance learning, part-time and full-time programmes and gained her Professional Education Doctorate in May 2021. The subject of her Thesis was 'An exploration of FE teachers' attitudes, intentions and behaviours in response to the 'Professionalisation Agenda'.
In 2007, she became Senior Lecturer in Initial Teacher Education (ITE) and delivers Initial Teacher Education (ITE) programmes across three academic framework pathways: The Professional Certificate in Education (PCE, Level 5), The Professional Graduate (ProfGCE, Level 6) and Postgraduate Certificate in Education (PGCE, Level 7). She obtained her Literacy subject specialist teaching qualification in 2007 and the Qualified Teacher Learning and Skills (QTLS) status conferring Fellowship status of the Institute for Learning (IfL) in 2011, as part of the Professionalisation Agenda policies sweeping Further Education. Since March 2021, as part of her external role for the Society for Education and Training (SET) she has been appointed QTLS reviewer.
Charmaine's teaching career started in the 1980s and has developed substantially in a variety of strategic roles. She was commissioned by the Inner London Education Authority (ILEA) to act as an independent education consultant for various local education authorities with a remit to evaluate educational provisions. As Education Manager of a partner institution in the Southwark education consortium, Charmaine had an advisory role updating community and voluntary sector groups on changes as part of the new Further Education Funding Council (FEFC) methodology, a monumental shift in the management of FE within the provisions of the Further and Higher Education Act (FHE) 1992, a central feature of her Thesis.
Charmaine has teaching and professional qualifications linked to each of her subject specialisms: French, Spanish, Politics, Economics, English, digital literacy, Adult Literacy, English for Speakers of Other Languages (ESOL), English as a Foreign Language (EFL), and Initial Teacher Education (ITE). Her teaching career in Further Education spans over 30 years, a substantial part of which was in Adult Community Learning (ACL).
Charmaine's most recent teaching roles at the University of Greenwich include:
2021/2022 ITE- Module Leader – ESOL/Literacy subject specialist diploma
ITE – Senior Lecturer - PGCE/PCE FE&SS
2020/2021 ITE – Senior Lecturer - PGCE/PCE & FE&SS/ESOL/Literacy subject specialist diploma/
2019/2020 - ITE – Senior Lecturer - PGCE/PCE & FE&SS
2015/16-2018/19 - Programme Leader BA Mathematics Education and BA Language & Literacy Education 2 year accelerated degrees
In 2020, as part of her lifelong commitment to FE, Charmaine participated as a panellist and in the UCU #Funding the Future national campaign 'Empower and Educate'. She participated in a promotional video 'Protect Education for All', another strategy for the #Funding the Future national campaign.
Other teaching commitments external to the University of Greenwich is membership of the Black female academic (Queen Nzinga) and other community networks. Since 2014, as part of her community engagement remit, she continues to present independent lectures for Black History Walks. Disseminations on 'Gentrification of Peckham and Black Urban removal worldwide', online and in physical spaces including Birkbeck, University of London, Wellcome Foundation, and community venues. Charmaine's expertise in this area has gained her international recognition and collaborations. She has also contributed articles on regeneration & gentrification for community publication CB-SE15.
Charmaine is a member of several international genealogical Jamaican networks and collaborates with genealogists worldwide. In 2017, she obtained a genealogy qualification from the University of Strathclyde. As part of her genealogical research, disseminations focus on the Jamaican communities and displacement within the African diaspora: a first step towards spiritual healing through re-engagement with lost communities & reflections on inter-generational trauma and the wider implications of transatlantic slavery.
Charmaine's transferable managerial and pedagogical skills are also deployed in the legal field. Since 2002, she has been an active panel member appointed by the Ministry of Justice (MoJ), England and Wales as a Judicial Officer holder (JOH), adjudicating on cases governed by Employment Law and Social Security legislation. Her various roles include panel member-employment law (2002-); race panel member (2004-2006); Equality Assessor - County Courts (2006-) and Disability Qualified panel member (2007-). In 2020, she was appointed as a Disability Qualified panel member by the Ministry of Justice for Scotland to the Social Security & Children Services First Tier Appeal Tribunal. She is required to undertake annual CPD in all legal jurisdictions related to her judicial roles.
Posts held previously
2020: ITE – Senior Lecturer - PGCE/PCE & FE&SS and ESOL/Literacy subject specialist diploma/
2019: ITE – Senior Lecturer - PGCE/PCE & FE&SS
2015 -2019: Programme Leader BA Mathematics Education/BA Language & Literacy Education 2yr accelerated degrees
Duties & responsibilities:
- Programme evaluation and reporting
- Creation of teaching & assessment content.
- Cross faculty collaboration with Programme Leader in Maths and Languages departments
- Module Leader Professional Development Portfolio 1 & 2 and Literacy subject specialism.
- Personal tutor for teaching cohort including employability guidance
- Collaboration with internal and external agencies to support students' wellbeing
- Marking and feedback for standardisation and moderation procedures in conjunction with team members
- Participation in staff meetings
- Representation of student results at pre-PAB, PAB, and review of modules at SAP panel meetings
- Writing annual course monitoring reports
- Liaising with External Examiners and responding to EE written feedback
- Assessment and selection of student applications for the course
2009-2015: Link tutor for network colleges