Key details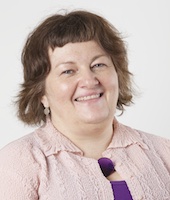 Claire A Winter
Principal Lecturer, Children's Nursing
---
Claire Winter is a Senior Lecturer for Children's Nursing in the School of Health Sciences at the University of Greenwich.
Her clinical background is children's major surgery care, orthopaedics and the development of individuals' practice, continuing this interest as lecturer in this field.
Claire joined the university in 2002 as a senior lecturer, interested in the development and support of individuals, interpretation of child health policies and the child health and welfare agenda.
Her lecturing areas include: academic skills development, mentorship, and preparing final Year 3 students in the role of qualified children's nurse. She is also a Link tutor with Dartford and Gravesham NHS Trust, supporting the progress of students and qualified staff.
Posts held previously:
1999-2001, Practice Development Nurse, children's surgical ward, University Hospital Lewisham
Within acute care, responsible for the development of both individuals and team on surgical ward; part of a group that devised and implemented a clinical supervision strategy on recruitment and management of practitioners returning to practice; participation on other trust wide initiatives
Sister in community children's nursing team.
Research / Scholarly interests
Claire's research interests mainly concern development of individuals, mentorship and emotional intelligence competency in the workplace, how we teach and acquire this and its impact and usefulness for all healthcare professionals.
Key funded projects
University of Greenwich: part of a team completing longitudinal evaluation of the teaching and learning of care leavers, 2008-10
Recent publications
Article
Collins Eade, Amanda and , Winter, Claire (2017), Using simulated practice in pre-registration education to explore mental health issues. Mark Allen Healthcare. In: , , , . Mark Allen Healthcare, British Journal of Nursing, 26 (12) . pp. 690-694 ISSN: 0966-0461 (Print), (doi: https://doi.org/10.12968/bjon.2017.26.12.690).