Key details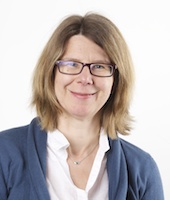 Liz Gale
Senior Lecturer, Midwifery
---
Liz Gale is a Senior Lecturer for Midwifery in the School of Health Sciences at the University of Greenwich.
Liz has a background in registered nursing and midwifery, working in both hospital and community settings as a caseload midwife. She was involved in the setting up of a local Sure Start and worked as a midwife within that multidisciplinary team.
Since joining the university in 2004, Liz is a senior lecturer on midwifery specific pre-registration nursing and midwifery courses such as the BA Hons Childhood Studies and Youth programme, as well as on post-registration health visiting and paramedic courses.
Her teaching focuses on psychosocial aspects of care within nursing and midwifery and the recognition of wider influences on health and wellbeing. Her particular interests are in social midwifery and promoting equitable outcomes for more disadvantaged families and transition to early parenthood. Liz is midwifery lead for Safeguarding and is also a Moving and Handling trainer.
Liz has been instrumental in securing stage 1 UNICEF accreditation for the university's pre-registration midwifery programme and has led on our work towards stage 2 accreditation.
Liz is a Link tutor with Queen Elizabeth Hospital, Woolwich and at Medway Hospital.
Posts held previously:
2002-04, Sure Start Midwife, North Bexley Sure Start
1992-2002, Senior Midwife, Queen Marys Hospital, Sidcup
1989-92, Staff Midwife, Queen Mary's Hospital, Sidcup