Key details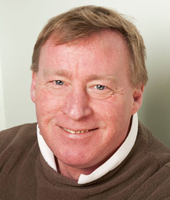 Dr Mark Goss-Sampson
Principal Lecturer, Sports Sciences
---
Having gained a MIBiol in biochemistry and physiology at the University of London, Dr Mark Goss Sampson completed his PhD in neurophysiology and neurochemistry of experimental vitamin E deficiency in 1987. From 1988 to 1993 he worked at the Institute of Child Health as a Postdoctoral Research Fellow and then non-clinical lecturer. In 1993 he joined the University of Greenwich as a Senior Lecturer in Physiology and was awarded a Principal Lectureship for Teaching Excellence in Sports and Exercise Science in 1999. In 1998 he was awarded a PGDip in Clinical Gait Analysis from the University of Strathclyde.
Responsibilities within the university
Postgraduate Leader
Course co-ordinator for:
Physiology and Biomechanics of Strength and Conditioning (L7)
Research Method And Professional Practice In Strength And Conditioning (L7)
Muscle Physiology and Training (L6)
Control and Disorders of Movement (L6)
Independent Research Project (L6)
Functional Anatomy and Biomechanics 1 and 2 (L4 & 5)
MPhil/PhD supervision
Robert Cooper - The effects of multi-nutrient supplement strategies on body composition, performance and bio-markers
Andrea Firth-Clark - An investigation of interventions to improve performance outcomes of underachieving children labeled talented in sport in the school environment.
Stephen Mann - The effect of structured exercise delivered within a fitness centre environment upon health and wellbeing
Dan Robbins - Human Physiological and Biomechanical Responses to Vibration Exercise
Jenny Strickland - An investigation of the use of massage in the treatment of childhood traction apophysitis injuries.
Research / Scholarly interests
Metropolitan Police - biomechanics and physiology of equipment carriage / body armour
3D analysis of sport specific movements
Electromyographical analysis of movement
Effects of whole body vibration on sensorimotor coordination