Key details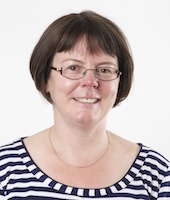 Patricia M Evans
Senior Lecturer, Adult Nursing
---
Patricia Evans is a Senior Lecturer of Adult Nursing in the School of Health Sciences at the University of Greenwich.
Patricia trained as a Registered General Nurse in Dublin in the Eighties. She took further education and training at Moorfields Eye Hospital in London, subsequently working there as a Specialist Ophthalmic Nurse then as Lecturer Practitioner developing and delivering ophthalmic courses at undergraduate and Master's degree level. She is a Registered Lecturer/Practice Educator with the Nursing and Midwifery Council.
She joined the University of Greenwich in 2010 as Senior Lecturer for a range of courses and programmes with a key focus on clinical skills provision. She has a special interest in resuscitation, moving and handling and intravenous cannulation/phlebotomy skills.
Patricia has a breadth of experience in developing and delivering bespoke skills provision and on-site courses for the NHS and other external partners.
Posts held previously:
2004-10, Lecturer/Practitioner, Ophthalmic Nursing at Moorfields Eye Hospital NHSFT and City University
2000-04, Lecturer/Practitioner, Ophthalmic Nursing at Moorfields Eye Hospital NHS Trust and Thames Valley University
1997-2000, HelpLine Project Manager at Moorfields Eye Hospital
1994-97, Ward Sister at Moorfields Eye Hospital
1989-94, Staff Nurse at Moorfields Eye Hospital
1988-89, ENB course member at Moorfields Eye Hospital
1987-88, Staff Nurse at Our Lady's Hospice, Dublin
1987, Staff Nurse at St. Vincent's Hospital, Dublin
Research / Scholarly interests
Patricia has a particular interest in skills acquisition and development, ophthalmic practice, and long-term conditions.