Key details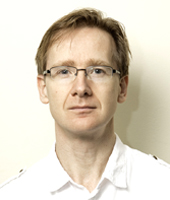 Dr Jan Krabicka
Programme Leader; Lecturer
---
Dr Jan Krabicka is Lecturer and Programme Leader for computer engineering related courses in the School of Engineering. His duties include being the coordinator for courses related to digital electronics, embedded systems and engineering mathematics, coordinator for the final year projects of computer engineering programmes and administration of computer engineering programmes.
He was previously Research Associate at the University of Kent. This included research involving the imaging of combustion flame radicals to reveal information about the combustion process and it was here that he won the Best Poster Prize at the Institute of Physics Conference for: 'Sensors and Their Applications XV' in 2009.
Recognition
Associate Member of the Institute of Physics (AMInstP

)
Research / Scholarly interests
Dr Krabicka's scholarly interests include particle flow instrumentation systems, embedded systems, flame monitoring technology and electrostatic sensing technology.
Key funded projects
Dr Krabicka has recently been doing research into the EU funded project 'Self Alerting Safety Jacket', which aims to improve search and rescue response times in man-overboard scenarios at sea by using various integrated wireless technologies. The goal of this project was to develop a miniature personal alert and locating beacon (PLB) solution that can be easily integrated with a life-jacket/PFD so that it becomes integral to the purchase, supply and use of PFDs as personal protection equipment (PPE). These 'self-alerting' flotation devices would be used for local alerting and rescue by maritime and inland waterway crew, employees, passengers, and recreational sailors.
He has done further research for EPSRC Project EP/G002398/1, Quantitative Characterisation of Flame Radical Emissions for Combustion Optimisation through Spectroscopic Imaging
The focus of the research was to use imaging techniques to investigate the light emission from particular chemical radicals that are present in combustion flames and to relate their characteristics to the composition of the exhaust gases produced in combustion. The aim for the project was to develop technology to be used in real time instrumentation systems installed on industrial combustion burners in order to monitor and control pollutant emissions.