Key details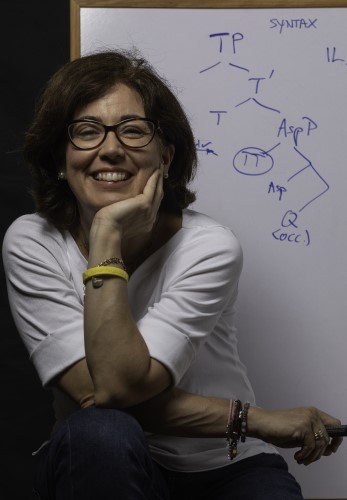 Professor Maria J Arche
Deputy Director, Institute of Inclusive Communities and Environments; Professor of Linguistics & Spanish; Lead of the Centre for Research & Enterprise in Language
---
Professor María J Arche is Professor in Linguistics and Director of the Centre for Research & Enterprise in Language (CREL). She obtained a PhD in Theoretical Linguistics & Language Acquisition under the supervision of Tim Stowell (University California Los Angeles) and Violeta Demonte (Autonomous University of Madrid). Based on her doctoral dissertation she published the monograph Individuals in Time: Tense, aspect and the individual/stage distinction, in the collection Linguistics Today, John Benjamins Publishing (Amsterdam/Philadelphia) in 2006.
She was a postdoctoral researcher at the University of Southampton funded by the UK Economic and Social Research Council and has been a visiting scholar at the Universities of California Los Angeles, Massachusetts Amherst, Groningen and Tromsø as well as part of several research projects. She is currently the Principal Investigator of an international team that has been awarded a theme-group fellowship at the Institute of Advanced Studies (NIAS) of the Royal Netherlands Academy of Arts and Sciences (KNAW).
Her research falls within the syntax-semantics interface focusing on Tense, Aspect, Argument Structure and copular verbs. She has studied these topics in the grammar of Spanish and has also investigated their crosslinguistic variation and acquisition.
Recent works include the edition of a Special Issue for the journal Natural Language and Linguistic Theory Arche, M.J. (ed.) 2014. Aspect across languages: semantic primitives, morpho-syntactic representation and the limits of cross-linguistic variation and Arche, M.J.,A. Fábregas and R. Marín (eds.) 2019. The Grammar of Copulas Across Languages, published by Oxford University Press in its collection of Theoretical Linguistics. These works comprise both extensive empirical data (from 17 and 12 languages respectively) and detailed theoretical analyses with consequences that go beyond the main topics of the works.
View Maria's Inaugural Lecture here