Key details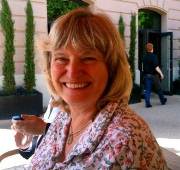 Professor Sarah R Palmer
Emeritus Professor of Maritime History
---
Professor Sarah Palmer joined the University of Greenwich in 1998 as founding director of the Greenwich Maritime Institute (GMI). She was previously Head of the Department of History, Queen Mary College, University of London. She retired as GMI Director in September 2010. As Emeritus Professor, she supervises PhD students and participates in GMI research. She is currently working (with Dr Vanessa Taylor) on an Economic and Social Research Funded (ESRC) funded project on 'London, Stakeholders and the Environmental Governance of the River Thames, 1960–2000'.
Her contemporary and historical academic interests are reflected in other activities, including chairmanship of the Greenwich Forum, membership of the British Commission for Maritime History, serving on the judging committee for the Maritime Foundation's Mountbatten Maritime Award and on the editorial boards of the International Journal of Maritime History, Mariner's Mirror, The Northern Mariner/Le Marin Du Nord and The Great Circle. She is a former Trustee of National Museums Liverpool.
Research/scholarly interests
Commercial shipping, port development and international maritime policy from the 19th century to the present.
Selected publications
Books
Palmer, S. (1990) Politics, Shipping and the Repeal of the Navigation Laws. Manchester.
Journal Articles and Book Chapters
Palmer. S. (2012) Government and the British Shipping Industry in the Later 20th Century. In: Gelina Harlaftis, Stig Tenold and Jesús Valdaliso (eds.) The World's Key Industry: History and Economics of International Shipping. Basingstoke: Palgrave Macmillan, pp.124-141.
Palmer, S. (2011) The maritime world in historical perspective. International Journal of Maritime History, XXIII, pp. 1–12.
Palmer, S. (2008) British Shipping from the Late 19th Century to the Present.In: Lewis, R., Fischer and Lange, E. (eds.) International Merchant Shipping in the Nineteenth and Twentieth Centuries: the Comparative Dimension. Research in Maritime History, 37. St John's, Newfoundland.
Palmer, S. (2008) Kent and the Sea. Archaeologia Cantiana, CXXVIII, pp. 263–279.
Palmer, S. (2006) Afterword. In: Harcourt, F. Flagships of Imperialism: the P&O Company and the Politics of Empire. Manchester: Manchester University Press.
Palmer, S. (2005) Leaders and followers: the development of international maritime policy in the 19th Century. International Journal of Maritime History, XVII, pp. 1–11.
Palmer, S. (2004) The Labour Process in the 19th Century Port of London. In: Barzman, J., and Barre, E. (eds.) Environments Portuaire. Le Havre: Le Havre Press.
Palmer, S. (2003) Port economics in an historical context: the 19th century Port of London. International Journal of Maritime History, XV, pp. 27–67.
Palmer, S. (2000) Women in the War. In: Wrigley, C.J. (ed.) The International Impact of the First World War. London: Routledge.
Palmer, S. (2000) Ports 1840–1970. In: Daunton, M.J., (ed.) The Urban History of Britain 3. Cambridge University Press.
Palmer, S. (1993) Shipbuilding in Southeast England. In Ville, S. (ed.) Shipbuilding in the United Kingdom in the Nineteenth Century: A Regional Approach. St John's, Newfoundland.