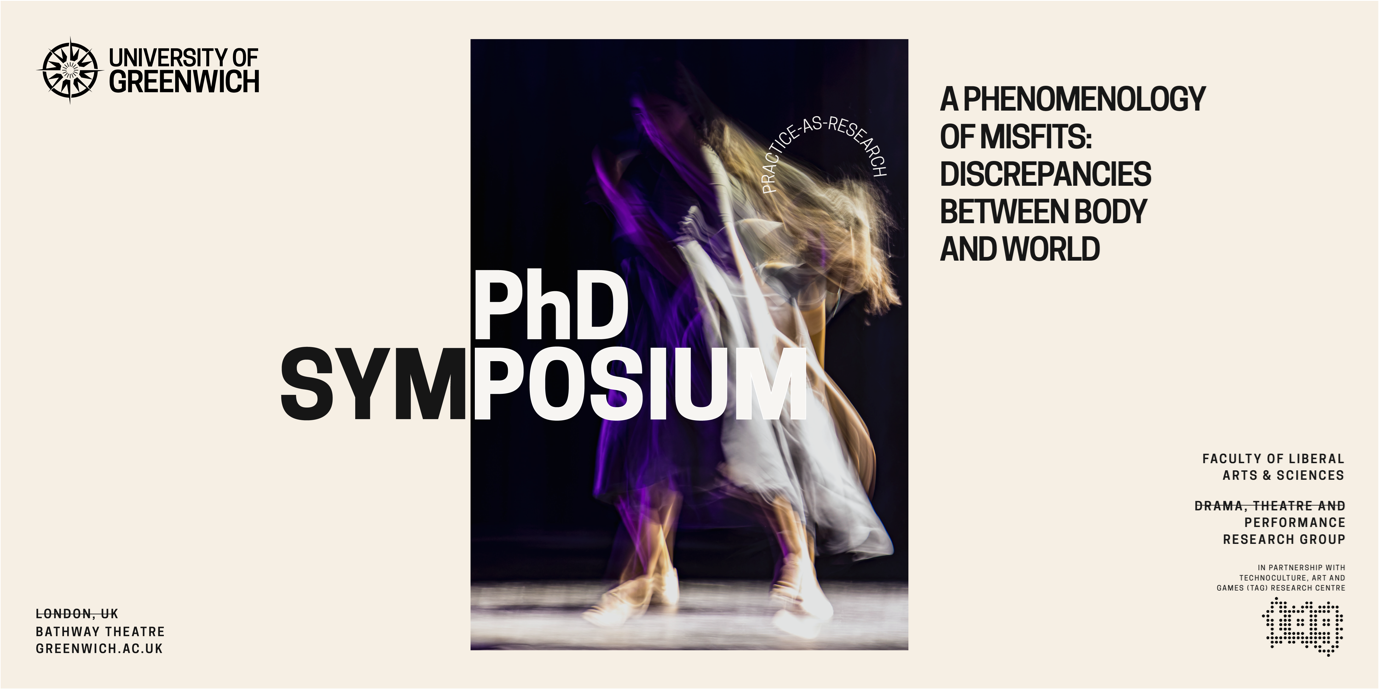 The Faculty of Liberal Arts & Sciences (FLAS) PhD Symposium 2022, in conjunction with the Drama, Theatre and Performance (DTP) research group, hosted by the University of Greenwich, and with the partnership of Concordia University's Technoculture, Art and Games (TAG) interdisciplinary centre would like to invite immersive and participatory performance practitioners, designers, scholars, writers, producers, devisers, filmmakers and other interested parties who find themselves embracing the term "misfit" due to race, sex, gender, migrant background, and/or (dis)ability to discuss their political, social and cultural perspectives in relation to art and their practice.
Date and Time: June 8th, 2022, 9:30am – 6:30pm
Location: Bathway Theatre, Greenwich, London, SE18 6QX
Book here: Free Tickets
---
Symposium Programme
09:30

Welcome

Carlos Eduardo Andrade Pires and Melissa Bondar

09:40

When One Size Doesn't Fit All: Theatre First Practices for Disability Initiatives

Melissa Bondar

The unique and varied structure of immersive and participatory performance has made it difficult to create streamlined assessment systems for analyzing risks in performance. Not only do physical risks still have to be assessed, but some of the content explored via participation from the audience can raise ethical questions and require additional investigations into the audience-participants psychometric paradigms that should be considered as well.

09:50

The Benefits of Lockdown on a Disabled Writer

Louise Usher

The digital world brings opportunities to us all, while working remotely may enable dreams to be realised for those living with chronic disease. As lockdown changed life for all, I gathered a group of people from all over the world to write a short piece about how life was for them. The blessing of this new way of working has led me to my PhD research which will ask people with disabilities how life was for them and how we can move forward into a new way of working, addressing physical challenges and creating a better lived experience.

10:05

The Representation of "Blindness" on Moroccan TV Channels

Amine Taswari

Moroccans with disabilities and specially those with vision impairment suffer from social exclusion that is mainly due to the negative representation that society fabricates and propagates about them. Films and tv programs partake in the manufacturing and spread of the negative social image that is responsible for the social isolation of the visually impaired. The paper studies moments of appearance of vision impairment in a Moroccan serial, tv talk show, and film. The findings of this study show that Moroccan tv channels deal with the issue of disability, particularly vision impairment, in an ableist and normalizing way that consolidates the negative stereotypical image about the disabled in general and the visually impaired in particular.

10:20

Omnium: A Bold New Circus

Lisa Lewis

Omnium's mission is to comprehensively include and represent those with and without disabilities, all demographics cultural, racial, gender, participants and audiences...creating a shared positive experience which unites people through the very core of humanity we all share- our hearts. We do this with a tripod of excellence: Entertainment, Education and Employment. Omnium Circus is a new paradigm for collaboration on all levels planting a positive seed to grow in each individual to feed the force of a global movement of positive change in humanity.

10:35

Break

10:50

In Person Only

WORKSHOP: The Way You Perceive The World: Engendering Mutual Respect

Lisa Lewis

We are born diverse, we choose inclusion.

Inclusion begins with mutual respect and understanding. This workshop will use circus skills to examine our individual communication and learning styles and experience some which are not our own. Learning to juggle with a different body or way of taking in information and instruction gives us access to new ways of perceiving the world around us and some insight into the way others might perceive us. Through a greater understanding of our own methods of learning, we enable ourselves to see those same needs in others and plant seeds for a more inclusive society. Please be prepared to move and play.

10:50

Online Only

PERFORMANCE RECORDING: Mystery Trip

Nigel Barret and Louise Mari with Kerry Underhill

Working with composers Jon McLeod & Anna Clock, technologist Jason Crouch and video designer Andrew Crofts, Nigel and Louise have created an epic digital excursion featuring people confined to their homes due to chronic physical or mental health conditions. The online audience will inhabit each show. The aim is that the experience is accessible to anyone who wants to come along. We will stop off at exciting places, meet amazing people, join in wild experiences, fight over the back seat, eat our sandwiches and inevitably leave someone behind at the petrol station. The wearing of dressing gowns is encouraged. This is a recording of a previous performance and will be only streamed on the digital platform.

11:45

In Person Only

WORKSHOP: Misfits in a Brave Space

Rawda Harb

It might be disconcerting to some if we say that we are different people (or personalities) in different situations. We do behave differently with our children than we do with our friends or partners or neighbours. Our entire, complex identities might sometimes seem governed by an overarching personality, but we each are multiple selves. This idea is also not a new construct. Social identity theory (Tajfel, 1978; Tajfel & Turner, 1979) explains how our self-concepts are determined by us depending on our social groups. People's attitudes and behaviors towards their ingroup and the outgroup are influenced by social identities. Although we can switch between our different identities or selves seamlessly (Zinn et al. 2022), having those multiple identities that all make up the entire person is a complex notion.

In this workshop, I would like to provide a space for participants to represent parts of their (often hidden) selves by painting their own body parts (ones that are appropriately exposed) by choosing the colours and locations depending on the feelings/selves evoked. Participants will then be encouraged to share their experiences as misfits in society, and to discuss our "performance in life", why we do it, and whom we do it for. We would begin the session with a gratitude exercise and end with a grounding one to abide by trauma-informed practices keeping everyone emotionally safe.

12:00

Online Only

GAME: Cadences

Soft Chaos (co-founder, Dr. Jess Rowan Marcotte)

Cadences is a game designed to be played by two people asynchronously. Players will create the story of a relationship's life, from the moment of its conception until the moment it ends. In Cadences, there are two roles for the players: The Distance and The Pair.

The Distance is ever-shifting and mysterious. Playing The Distance means seeking to find words and metaphors to describe something abstract and mutable.

The Pair is human and flawed. Playing The Pair means playing a grounding, concrete role in contrast to the metaphorical and amorphous nature of the Distance.

The Distance and The Pair take turns going on walks guided by an accompanying audio file, considering the changes and phases of the relationship, and communicating the next part of the story in a way that fits their relationship. The Pair describes, with the help of prompts, events that happen in the relationship while the Distance describes, through metaphorical descriptions, how those events impact it.

12:25

Lunch

13:10

Good Night, Sleep Tight: Working Within a Collapsing System

Persis-Jadé Maravala

Persis-Jadé Maravala has been recently developing VR/360 Goodnight, Sleep Tight – an interactive, performative, live VR experience. Together with technologist Emily Donovan, she is working with VR taking a counter position to VR being hijacked by shoot' em up gaming and the porn industry. Persis-Jadé is trying to position herself deliberately in resistance to that trend by creating work that is delicate and intimate and engages with humanness of revisiting the myth of childhood. Live touch drives the need to understand human loneliness and this research on a motherly touch in your childhood bedroom is partly to do with that.

13:40

Muti-dimensional Journey of Our Kind : Capacity of Human Learning

Fakhar Raza

This project is about finding better practices from multiple traditions to expand the capacity of humans learning.
Guided by the question, can we become wiser as a species and create meaning systems that are in sync with symphonies of nature? We will be mapping the landscape of conscious altering experiences in a Flow state of play.

This research will address three challenges faced by individuals which are exacerbated by our digital era. Social Overwhelm leading to mental health crisis, Evolutionary Misalignments in technologically simulated environments for individuals that limits their learning capacity, the fast-approaching phenomena of automation & Irrelevance.

These Journeys of learning practices would include the elements of set and setting methods inspired by eastern, western, Indigenous & conscious altering traditions. Research will be shared through a cinematically engaging feature documentary, comprised of visual storytelling, video essays and podcasts.

13:55

Handle with Care

Carlos Eduardo Andrade Pires

Handle with Care is a performance lecture on a practice-as-research study that uses creative and participatory methodologies and is designed to engage and collect individuals' narratives from a divided community. The project aims to identify common interests through different cultural and social strata and engage the underrepresented local community to inform future arts policy. This performance-as- research study is intended to guide participants and residents of Woolwich, Southeast London, to a moment of self-encounter, shifting the focus from performer-subject to participant-subject. Woolwich is an area in the Royal Borough of Greenwich attracting the attention of urban developers more recently. Far from the mainstream, the site has its own cultural specificities, which the new developments might threaten. From an autobiography framework that draws on PaR methods and investigates the impact of a one-to-one performance on a divided community, I apply the term Misfits in its most comprehensive significance to implicate ideas and experiences of failure within the audience, arguing that this performance format carries out an 'experience of truth' that engages the audience in a dialogue through actual and meaningful content, embracing the viewer and viewed in an aesthetic journey of intimacy and togetherness.

14:15

SCREENING: Oink! & Discussion

Dr.João Florêncio

Funded by the Arts and Humanities Research Council, and featuring interviews recorded in Los Angeles and Berlin in 2019/20, the experimental documentary short OINK! offers a portrait of gay men who—in different ways—relate to the gay "pig" sexual imaginary. It provides insight into their experiences of identity, masculinity, community, belonging, sexual pleasure and intimacy, as they are co-shaped and framed by 21st-century media. After the screening, Dr Florêncio will deliver a short talk on the research on contemporary masculinities and gay male sex cultures behind the production of the documentary, as well as his experience of co-creating a research documentary with a film crew.

15:05

KEYNOTE: Designing Queerly and Designing While Queer

Dr. Jess Rowan Marcotte

Queer desires and experiences are misfits in a medium that, despite the evidence of a hunger for diverse voices and experiences on the part of players, continues to generally be marketed toward white, straight, cisgender male gamers. There is a productive friction and tension of queer bodies and experiences at play in the work of queer game designers. These forces have led to a number of design practices that are at odds with game design best practices and status quo.

Coming out of their personal design practice and their doctoral research, Dr. Jess Rowan Marcotte explores the topic of creating working definitions of queer game design that are robust enough to point to what makes them distinctive while simultaneously avoiding prescriptive limitations and identity policing. Using examples from their own practice (transgalactica, TRACES, rustle your leaves to me softly, Strangers on the 'Net, and others) and that of other queer game designers, they explore sets of common practices and approaches to queer game design and how these differ from and challenge the status quo.

15:50

Break

16:05

In Person Only

WORKSHOP: Whose Story Is It Anyway?

Dr. Almiro Andrade

This workshop is focused on the meanings of text and voice, with both theoretical and practical framework responding to the dynamics of authorship and sense of belonging. We will explore both what is written and what can be read between the lines of a text in context.

All levels and backgrounds are welcome: actors, performers, dancers, and those interested in playing with the body and the voice. All the exercises can be adapted to suit each participant's level.

16:05

Online Only

WORKSHOP: WW(h)E - World's Worst hybrid Event

Koby Rogers Hall

How do we re-engage with community, when the aesthetics and kinesthetics of 'post-conflict' zones require an ongoing state of not knowing, be they in pandemic, scholarship, or mothering work into the world?

Specific failures in tactical experimentation over the past years will be shared with an interest for ongoing relationships and prefigurative possibilities, for when growing pains are the only method for moving toward whatever is to come. When the world has stopped caring, restrictions are lifted, and we settle back into the comforts of killing each other – how do you show up for conflict, climate change, for one another, rather than turn away, isolate, and plug back in to self-surveillance? This performance can no longer be a rhetorical question.

17:10

WORKSHOP: Meaningful Mechanics for Misfits

Dr. Jess Rowan Marcotte

Drawing on the concept of Procedural Rhetoric and questions around power dynamics in typical AAA games, this workshop aims to help creators move beyond the surface of what games have to offer as sites of interactive inspiration. Together, we will use this workshop to examine how actions and mechanics drawn from games can act as meaningful metaphors that support and deepen the themes of a piece. Through a series of short exercises, we will uncover and invent misfit mechanics for communicating experiences in games, interactive art, and theatre.

Participants are invited to come with a particular piece or idea in mind that they would like to use as the basis of their workshop exercises.

18:25

Closing Remarks

Carlos Eduardo Andrade Pires and Melissa Bondar
For those in person, Good Night, Sleep Tight and Visualization Practice for Difficult Emotions will also run concurrently throughout the day. There will be a sign-up sheet available upon arrival at the venue. Time slots are limited and first come, first served.