Greenwich's student-led theatre company returned to the Fringe Festival in August with their adaptation of a classic work.
After a pandemic-enforced break from the Edinburgh Fringe Festival, Greenwich's Drama students - as the Bathway Theatre Company - returned to the city in August 2022, for the first time since 2019, with a successful run of performances.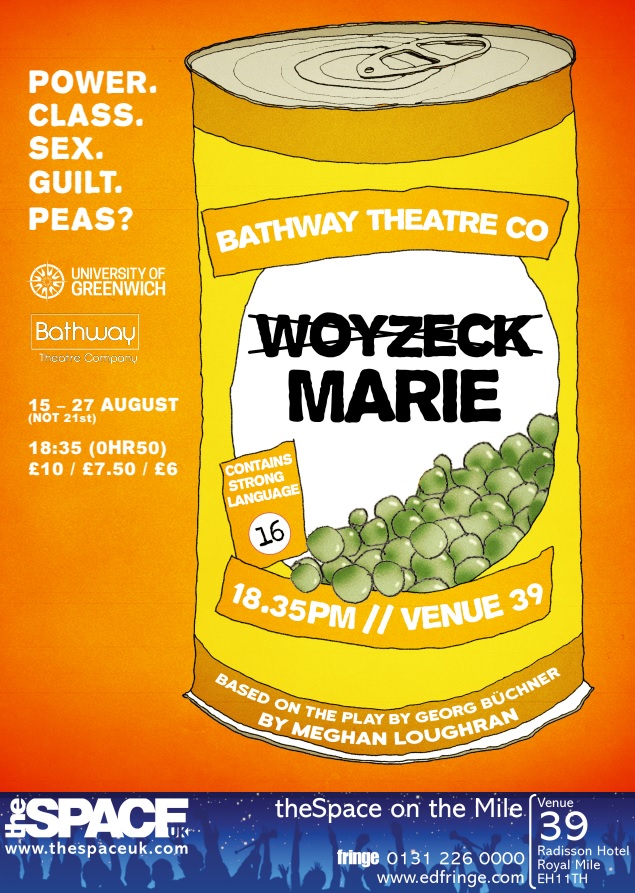 Running for 12 nights, the Company's production was an adaptation of George Büchner's uncompleted stage play of 1836, 'Woyzeck'. Re-imagined by our students under the direction of Final Year student Meghan Loughran - and set in the Falkland Islands in the 1980s - the production explored class, feminism, sexuality and religion in Thatcher-era Britain via an array of curious characters and a can of mushy peas!
In response to this dark, comic and thought-provoking play, reviews from the Edinburgh audiences praised the Greenwich team - their script's structure, the pacing and comedy, the quality of the acting and the stage set and also the cast's energy.
An audience south of the border was also lucky enough to catch the play when the team returned from Scotland and gave a special performance in the Bathway Theatre, Woolwich.
Commenting on yet another successful Edinburgh Fringe Festival run, James McLaughlin, Lecturer in Drama at Greenwich, says "Watching this student-led production take shape under the leadership of Meghan Loughran was inspirational. To see the voice of this generation of theatre makers emerging in the anarchic vitality with which it expressed itself had a huge impact on me and many audience members who I spoke with."
The Bathway Theatre Company comprises students primarily from the University's BA (Hons) Drama and BA (Hons) Drama & English Literatures courses.
To find out more about these courses, and the University's MA in Contemporary Performance, click here.