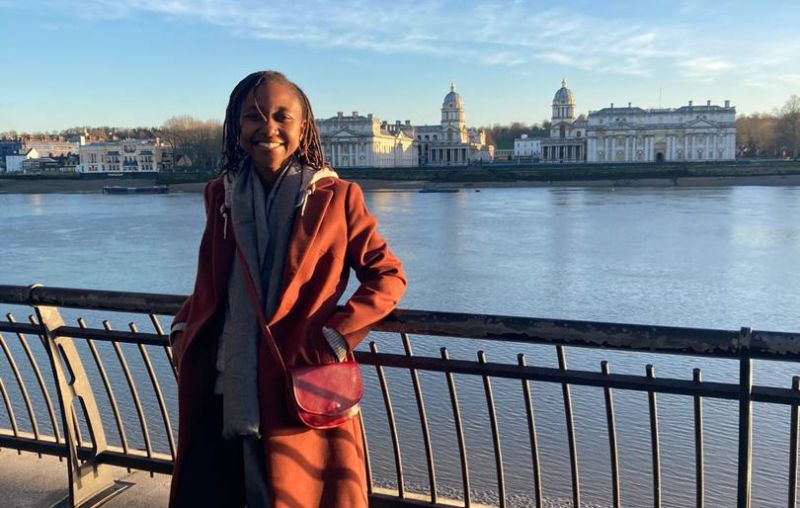 "I chose the University of Greenwich because of the course offered and the diversity of the school." Grace, who hails from Kenya, told us "It is also such a beautiful place to study and live. The course is in line with my future career plans, and I was happy that a placement was part of the course, meaning I would gain more first-hand experience."
Grace came to the university as part of the Chevening Scholarship Programme. It is the UK government's international awards programme aimed at developing global leaders through fully funded master's scholarships and Fellowships. The scholarship covers the tuition fee, a monthly living allowance and the cost of return economy class flights. It is funded by the Foreign, Commonwealth and Development Office (FCDO) and supports thousands of emerging leaders from over 160 countries. It is very competitive and with almost 60,000 applicants recorded in 2020/2021 and around 1,400 master's scholars selected, we can see why Grace is so proud to have made the final cut.
"The process was long, but it was worth it!" Grace explained. "It started in late 2019. Chevening opened their application for 2020/2021 master's students in August 2019. I had three months to prepare my application before submitting it in November 2019."
"After submitting my application, I had to wait until mid-February 2020 before receiving any news on whether I was shortlisted. I remember constantly refreshing my email, anxiously waiting for the news. As we approached the end of February and I had not received any update, part of me started to give up." Grace then told us how she finally received an email from Chevening on 26th February. "I was too scared to open it that I gave my mum my phone to check instead." Grace recalls "When she ran to hug me, I knew it was good news!"
Grace then told us how she started to prepare for the interview which took place in April 2020 via Microsoft Teams. She then had to wait until mid-June to receive the final confirmation. "Those were the longest two months of my life" Grace recalls "But I finally received the email, 'Dear Grace, we are delighted to inform you…' and I was ecstatic! The next few months flew by very quickly, and in October 2020, I finally arrived in London."
We asked Grace about her course so far. "The teaching style is quite different from my home country and coupled with the isolation caused by COVID-19, I had difficulty adjusting initially." Grace remembers. "However, I met such great people in the first few weeks of my arrival, and I am now enjoying my experience."
Grace also praised the university for offering a lot of support, ensuring that she did not feel like she had to tackle everything alone. She also applauded the lecturers on her course stating "I was surprised at how friendly and approachable the lecturers are, making it easy to ask for help. I like that. They are also actively engaging in recent research which is great."
Finally, we asked Grace about her plans for the future. She told us "Back in Kenya, I mainly work with children diagnosed with cancer. 75-80% of children diagnosed with cancer die in Kenya, which causes much trauma on the children, survivors, families, and health care providers. I aspire to become a paediatric psycho-oncologist in the future and to pursue a Master's in Child and Adolescent Psychology is the first step in making this a reality. Once I return to Kenya, I hope to work as a child therapist in the local paediatric oncology ward."
We wish Grace all the best in her studies and her future and hope she enjoys her time at Greenwich!